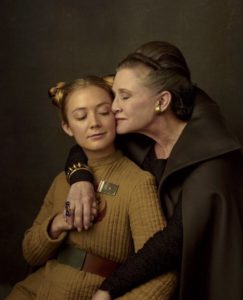 It's been a year, to this very day that we lost Carrie Fisher. (See my original post, a year ago – Remembering Carrie Fisher). It was strangely haunting seeing her in Star Wars: Episode VIII – The Last Jedi, knowing that she was no longer with us. Each and every moment she was on the screen, the first time I watched the movie, was filled with a touch of anxiety, because I was expecting that to be the moment, that General Leia would be "exited" out of the movie. So, it's no surprise (other than the fact that I, unlike some Star Wars fans, thoroughly enjoyed the movie), and went back and saw it a second – then a third time. It's still difficult, even a year later, knowing she's gone. From what I've read, she's being written out of Star Wars – Episode IX, rather than giving her a death scene,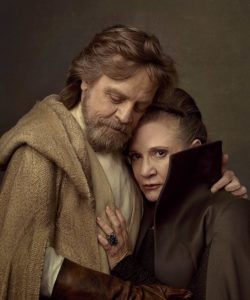 which I think is probably the better way to go. I would love, if they did something with her (real life) daughter (Billie Lourd), who has been in The Force Awakens and in The Last Jedi, and do more with her. There's only one more movie, for this trilogy – that they can't do too much with her – I just hope that she appears in the final trilogy, so that we still get to see a piece of Carrie Fisher continuing the Star Wars franchise.
Carrie Fisher, May The Force Be With You, Always.
– Tawmis