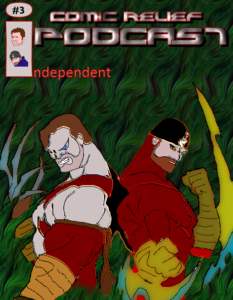 Are you looking for these issues? (Or any comics?) – Consider using our Affiliate Link to help keep the site ad free: Shop Here.
You've waited, for what feels like centuries. And now, at long last, it is finally here. What is "it" you ask? Well, obviously if you're on this website – you know that "it" must be the next issue of Comic Relief Podcast! That's right, just under the gun of the (delayed) Sunday deadline – Comic Relief Podcast #3 is finally completed! (Okay, sure if you're not on the West Coast, it's already Monday – and if you're in Australia, you're like three weeks into the future – but still!)
This Issue covers the assortment of Independent comics that have been released. While there are literally, hundreds and hundreds of indie titles that have entered the comic book world – some meeting with amazing success, some crashing and burning just after their first issue – Tawmis and Maico cover an assortment of indie titles that have caught their interest in some way. Some of what is covered includes the success of Image Comics, The Walking Dead (Maybe You've Heard Of It?), Saga, Chew, Wanted, Dark Horse Comics, IDW Comics, ElfQuest, ElfLord, The Adventurers, as well as The Tick. And finally, Maico conducts and interview with Jacob, of Wendigo Comics about what to expect if you launch your own Indie Comic Book Company.
You can share comments on facebook or tweet to us! (We tend to be far more responsive on Facebook, however! It lends itself to a more social/discussion type setting!)
PLEASE NOTE! We're going to try something new! Came up with an idea, that I don't think has been used before! We're opening up a "Letter's Page" – a way to get YOUR voice on the Comic Relief Podcast!
Here's how it works – you record your own voice, giving your opinion, thoughts, etc – about the episode(s) you've heard! Then, like the letter's pages of comics – we will put them at the end of the podcast (once we have collected a few of them!) You can send them to us!
Naturally, we reserve the right to edit, censor and modify what you send us (to make sure it's clean, clear out noise, shorten whatever you may send, etc).
NOTE: When/IF you send us something – please be sure there is NO music or anything playing in the background that may be owned / copyrighted by someone else. We will NOT be able to use those pieces!
[audio: http://comicreliefpodcast.com/podcasts/Comic%20Relief%20Podcast%20-%20Issue%20%23%203%20-%20Indie%20(Not%20Jones)%20Comics.mp3]
Or right click and download the file!
Now on iTunes!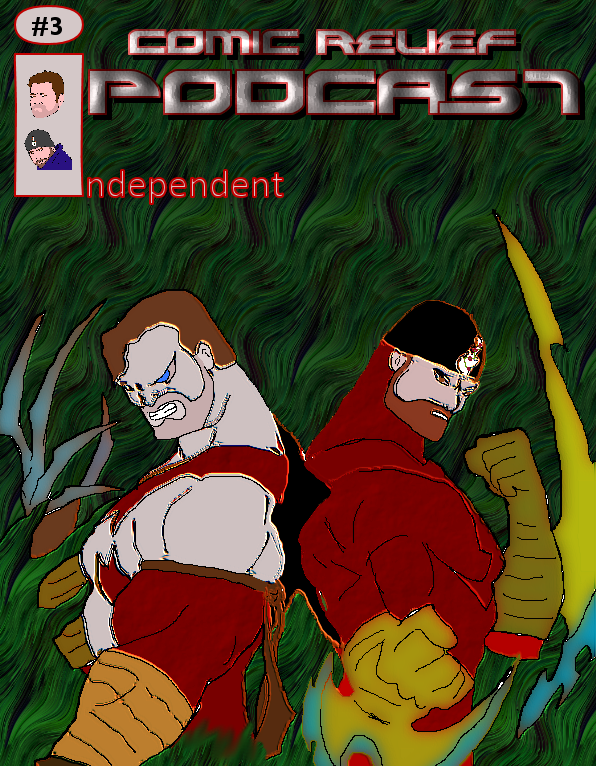 00:00 – Intro
00:25 – Let's Be Independent
02:10 – You May Have Heard Of These Guys
02:40 – The Birth of Image
03:40 – Tawmis Seems Obsessed With Male Muscles
04:15 – Image, The Umbrella Company. Sounds Mysterious.
04:45 – It's No Longer The Top Two.
06:00 – What's This Thing Called "The Walking Dead" – Ever Heard Of It?
07:30 – Kids, Lying Can Be Beneficial And Profitable.
09:00 – Hit The Ground Running, Or Shambling, Whatever.
10:10 – Then What's Taking So Long To Finish ElfQuest, Maico?
11:00 – Maico's Making Some Bold Statements.
11:45 – Are You Looking To BUY Comics? Listen To This Part. Seriously.
11:50 – Tawmis Doesn't Know Left And Right. It's On The RIGHT Hand Side.
12:08 – I Can't Tell If Maico Loves Gambit Or Saga More. What Do You Think?
12:45 – Tawmis Talks Saga.
14:50 – Now Maico Talks Saga.
16:00 – What Do You Do With Your Food, Kids?
16:21 – Tawmis Thinks Pigs Can Fly, Apparently.
17:23 – A Comic About Illegal Chicken Operations? Sign Me Up!
18:14 – This Person's Been Murdered? Let Me Eat His Finger.
19:00 – Wanted, Dead Or Alive. I Still Ride! I Still Drive! Dead Or Alive!
21:00 – Tawmis Talks About Not Touching Things In A Long Time
21:20 – Why Tawmis Fell Out Of Image Comics (Because You Care, Right?)
22:40 – The Original Image Comics Are Not Like Fine Wine
23:00 – Maico Talks About The Best Comic Book Trade He Ever Made. In History.
24:41 – The Wild Storm That Hit DC Comics
25:20 – Getting A Kick Out Of Cyberforce
25:45 – It's Like The Black Stallion, But Not.
26:44 – Dr. Giggles? Is That The Dentist From Toejam And Earl?
27:50 – Star Wars And Guardians of the Galaxy Cross Over? You Heard It Here First!
28:25 – I Don't Whine. Is That What IDW Stands For?
29:00 – Maico The Sell Out?
29:30 – What Got Tawmis Into Judge Dredd?
29:50 – Questing For Elves.
31:50 – Bearclaw And Not The Pansy Pastry
33:15 – Hailing The Amazing Talent Of Wendy Pini
33:50 – How ElfQuest Led Me On My Own Quest
34:35 – Where YOU Can Read ElfQuest – FOR FREE – And Legally!
34:50 – And So Begins The Final Quest
35:00 – Why Tawmis Fell Out Of ElfQuest Comics (Because You Care, Right?)
35:40 – And How They Dragged Tawmis BACK Into ElfQuest Comics
37:10 – What Tawmis Recommends You Should Read In ElfQuest
37:35 – Lets Go On An Adventure
38:35 – Where You Can Go To Learn More About The Adventurers
38:50 – Sorry Ken If I Slaughtered Your Last Name
39:25 – The Lord Of Elves?
39:45 – Who Fights A Mustache And Ginger Bread Cookies?
40:09 – So, Do You Think He Nailed It?
40:50 – Lets Go Rooftop Hopping!
41:35 – Tawmis Reveals Who Sewer Urchin Is Like And Blows Miaco's Mind
42:25 – Maico Interviews Jacob From Wendigo Comics
51:41 – One Final Word
52:13 – The Outro (I Am Going To Make That A Word!)
Podcast: Play in new window | Download
Subscribe: RSS