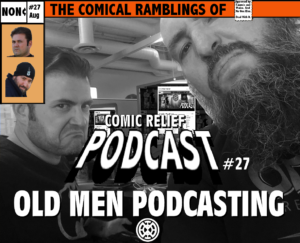 Are you looking for these issues? (Or any comics?) – Consider using our Affiliate Link to help keep the site ad free: Shop Here.
In this episode, Tawmis Logue & Maico Moreno go over quite a few movies, to make up for the times they've not podcasted! So in this episode, they cover Logan, Guardians of the Galaxy 2, Wonder Woman and Spider-Man: Homecoming. They also continue down the list of their "Favorite X's" – and by that, we mean X-Men (well, there's plenty of X-Women in there too) – and not as in men or women we dated – more like the X-Men characters from Marvel's X-Men books. (This is getting far more complicated than it needs to be, and I swear we're comfortable in our sexuality…) So the list is from those that joined the X-Men in the 2000-era of the X-Books. It's a pretty long list, and we agree on some things, while we strongly disagree on others!
Because we had some catching up to do – it's a bit of a length episode, weighing in at – I think one of our longest podcasts to date – an hour and 42 minutes! (Originally, the recording had been 4 hours and 7 minutes long! So a lot ended up on the chopping floor for the sake of your sanity!) Please give it a listen – and if you have iTunes, please take the time to rate us on there and leave a comment or two (or three or four). Please tell others about us – word of mouth is gold in convincing others to give something a swing!
[audio:http://comicreliefpodcast.com/podcasts/Comic%20Relief%20Podcast%20-%20Issue%20%2327%20-%20Comic%20Relief%20Podcast%20-%20Old%20Men%20Podcasting.mp3]
If you love us so much, that you want to put it on your favorite audio player on repeat, you can download the MP3 also.
Now on iTunes!
Podcast: Play in new window | Download
Subscribe: RSS