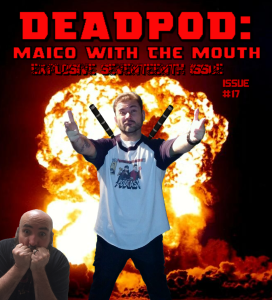 Are you looking for these issues? (Or any comics?) – Consider using our Affiliate Link to help keep the site ad free: Shop Here.
Deadpod: Maico With The Mouth, Issue #17.Issue #17 of the Comic Relief Podcast is finally out! In this issue, we focus primarily on Deadpool. You may have heard of him? He had this beautiful, Valentine's Day themed movie that just came out? Biggest opening for an "R" rated movie – ever? About a man's struggle against Cancer? It's a beautiful love story! Well, he also happens to be a smart @$$, potty mouthed, unkillable, mercenary – known as Deadpool – the Merc With The Mouth! The first half of the podcast, we recorded just before the movie came out – and we focus solely on the comic books that have featured Deadpool – the second half of the podcast, Maico discusses his thoughts about the Deadpool movie (Spoiler Alert: It's nothing but endless raving reviews of goodness – so if you haven't seen the movie yet – you might consider doing that now!)
Now, on to the show! You can stream it from here:
[audio:http://comicreliefpodcast.com/podcasts/Comic%20Relief%20Podcast%20-%20Issue%20%2317%20-%20Deadpod%20-%20Maico%20With%20A%20Mouth.mp3]
Or you can click here to directly download or stream the MP3 file if the above does not work: Deadpod: Maico With The Mouth.
Now on iTunes!
Podcast: Play in new window | Download
Subscribe: RSS