Are you looking for these issues? (Or any comics?) – Consider using our Affiliate Link to help keep the site ad free: Shop Here.
This isn't the Free Comic Book Day podcast (still working on that one!), but this one has Maico and I discussing – and debating – Daredevil Season 2 – well, debating a specific thing about Daredevil Season 2. If you've watched Daredevil, Season 2, see whose side your own when it comes to the impasse about the one thing that we could not see eye to eye (no pun intended with the blind thing, for Daredevil).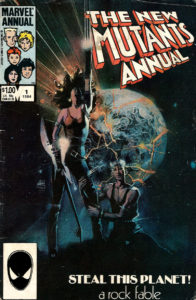 Also in this episode, we talked to Arvin Bautista of Greasy Pig Studio. If you have not yet checked out the website for Greasy Pig Studios I would highly recommend checking it out, along with their Youtube Channel so that you can check out the awesome Dazzler video, which led to the Lila Cheney video (which is loosely based off of New Mutants Annual #1). The video takes the New Mutants (beginning with them leaving Stevie Hunter's class)! Arvin is clearly very passionate about the subject – and knows his stuff. He digs the obscure characters, and knows how to make them shine. So check out his videos – after you listen to the podcast! Then tell him how awesome his videos are and that we sent you towards him!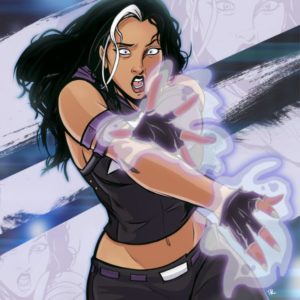 Right after speaking with Arvin, we spoke with Dorphise Jean who funded her comic through a successful Kickstarter campaign. Her comic is called Spirit's Destiny, and focuses on Destiny, a young Haitian woman who is coming to terms with her newfound abilities and the pressure of deciding how to use them. Unfortunately, during our interview with Dorphise, there was quite a bit of audio issues, so a lot of the interview ended up on the cutting room floor. But we were able to salvage about 15 minutes or so of it, and got the main parts of the interview saved. I would highly recommend checking out Dophise's Facebook page for Spirit's Destiny, as well as the Spirit's Destiny website to learn more about this comic!

[audio:http://comicreliefpodcast.com/podcasts/Comic%20Relief%20Podcast%20-%20Issue%20%2319%20-%20The%20Podcast%20of%20Hells%20Kitchen.mp3]
You can stream the episode above, or right click this file and SAVE AS… to save our beautiful voices on your local machine!
Now on iTunes!
Podcast: Play in new window | Download
Subscribe: RSS