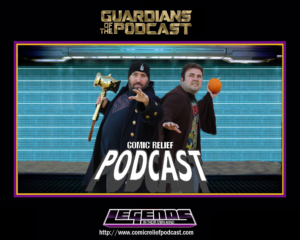 Are you looking for these issues? (Or any comics?) – Consider using our Affiliate Link to help keep the site ad free: Shop Here.
Now, when with the title called "The Problem With Fans" – you're probably thinking we're talking about comic book fans, right? No. We're not. This is something else entirely, that is almost immediately explained. It begged for it to be the title – to remind myself of what happened! Needless to say, this episode was recorded twice – once, not so successfully – then again, successfully! Both times, the recording session was three hours long! (And rest assured, that is a lot of time editing! I have spent two days editing this second take of the podcast, with little to no breaks! My sanity may be gone, but it's finally done!)
A few things to note about this episode, since it was a second take (and I was, admittedly lazy/busy) – some things are now out of date!
We talk about the 17 minute preview of Guardians of the Galaxy we got to see on July 7th. We have both since seen the full movie (as of today), at least twice now.
We talk about the iOS game, X-Men: Days Of Future Past from Glitchsoft – we mention several characters that will be available to play – and now, Storm and Polaris are indeed available to play!
We talk about the CYCLOPS solo series, and talk about how Corsair has come back from the dead. The newest issue (this week) goes into depth about that.
We mention that Teen Titans #1 had not come out yet – but it has! (Future podcasts will probably discuss this!)
And we also mention that Ragnarök (by Walt Simonson) had not yet come out. And it has. And it's epic. So freaking epic. I am sure this will be mentioned in future episodes. Repeatedly. Over and over again.
All that said, this episode also has an interview with Joie Brown and the folks at DieGo Publishing.
[audio:http://comicreliefpodcast.com/podcasts/Comic%20Relief%20Podcast%20-%20Issue%20%23%2010%20-%20The%20Problem%20With%20Fans.mp3]
Or right click and save the file!
Now on iTunes!
Podcast: Play in new window | Download
Subscribe: RSS