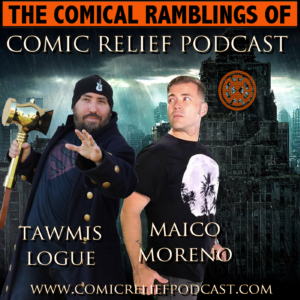 Are you looking for these issues? (Or any comics?) – Consider using our Affiliate Link to help keep the site ad free: Shop Here.
Comic Relief Podcast #9 is finally out! And while the official title is "Long Beach Comic Expo Coverage" – I think it deserves a special title of "Out With The Old And In With The New!" No, we're not talking about the New 52 or anything! Rather, it's because the plan had always been that we were going to do the Long Beach Comic Expo and hang out in Colleen's booth (who owns and runs Wyng'd Lyon Creations – but, as fate would have it, and illness would strike Tawmis down for nearly two and a half weeks, so that he was unable to attend. Instead, Colleen, who was just going to be a special guest on the podcast, ended up filling Tawmis' seat and being the co-pilot to the episode! It turned out to be an amazing, fun, episode! We also managed to interview Joy of Black Jack Comics. You can check out their website, Facebook page, as well as their twitter.
So, sit back, and prepare your auditory orifices for the reception of some fresh podcasting! And please, by all means, if you enjoyed it – share this page, tweet this page, do whatever you can to help get the world out! It not only, naturally, helps us – but it also helps the MANY indie comic creators we have interviewed in our podcasts, to help get them some recognition and success as well!
[audio:http://comicreliefpodcast.com/podcasts/Comic%20Relief%20Podcast%20-%20Issue%20%23%209%20-%20Long%20Beach%20Comic%20Expo%20Coverage.mp3]
Or right click and download the file!
Now on iTunes!
Podcast: Play in new window | Download
Subscribe: RSS