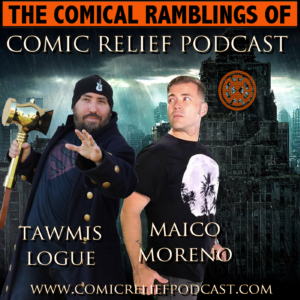 Are you looking for these issues? (Or any comics?) – Consider using our Affiliate Link to help keep the site ad free: Shop Here.
It's the second most important thing to ever happen in your life! (The first one, naturally, being our first episode!) I'm pretty sure THAT part was obvious, however. At long last (well, really not that long), the second episode of the Comic Relief Podcast is complete! You can share comments on facebook or tweet to us! (We tend to be far more responsive on Facebook, however! It lends itself to a more social/discussion type setting!)
[audio: http://comicreliefpodcast.com/podcasts/Comic%20Relief%20Podcast%20-%20Issue%20%23%202%20-%20Going%20Out%20To%20The%20Movies.mp3]
Now on iTunes!
Or right click and download the file!
00:00 – The Intro
00:25 – Let's Go To The Movies
00:40 – Are You "Ruddy" For the Ant-Man Movie?
01:40 – Like An Anchor – Anchorman 2 Sinks
02:25 – Can A Former Drunk Play A Former Drunk?
03:30 – Baron Zemo. No. Strucker.
05:00 – Prepare Yourself, Winter Soldier Is Coming.
05:30 – Looking To The Future About The Past
05:55 – She's Gone Rogue
06:35 – Wolverine? Surprise? No Surprise.
07:30 – Your Age? Apocalypse.
08:23 – Who Is More Important – Cyclops Or Nomad?
11:15 – Learn From The Hobbit
11:35 – I Am Groot. Well, Not Me. But Who We Mention.
12:25 – My Lord Is A Star
13:23 – Is That… A Talking Racoon. I'm More Concerned He Has A Gun.
14:14 – How Do You Say Her Last Name?
15:30 – He's Built Like A Brick (Censor) House.
16:00 – I Went Too Far Back
16:20 – James Is Upset At Us. Again.
16:40 – Rock Solid
17:30 – Three Blades
18:25 – Getting Sinister
19:15 – Feeling Venomous
22:10 – How Marvel Changed Super Hero Movies
22:35 – I Tumble For You
23:15 – She Doesn't Have Big Enough (CENSOR) Apparently?
24:15 – She Won't Be In Costume? Is She Naked?
25:15 – Who Else Wants A Justice League Movie?
25:45 – Chris Evans and Chris Helmsworth Get Confused For Us All The Time. Seriously.
26:15 – Linda Carter Speaks About Wonder Woman
27:14 – I Knew About Him. I Collected West Coast Avengers. Just Saying…
28:00 – Suicide Squad, Booster Gold, Movies?
28:47 – My #2 Love Interest
28:52 – Arrow, The Movie. Our Thoughts.
30:15 – Maico From The Block
30:53 – BLAM! SHOOT'EM IN THE BACK!
31:45 – ADDED: What Happens When A Toad Is Struck By Lightning?
32:45 – BatKid.
34:15 – The Story Of Dennis, The Eternal Green Lantern.
36:45 – The Outro
Podcast: Play in new window | Download
Subscribe: RSS