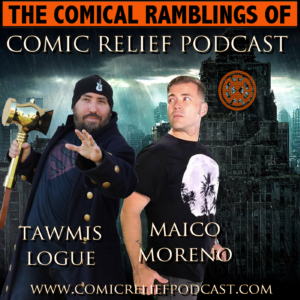 Are you looking for these issues? (Or any comics?) – Consider using our Affiliate Link to help keep the site ad free: Shop Here.
Well, at long last. It's just what you wanted to see. Maico and Tawmis taking off their tops.
Well, no. Not their shirts. Sorry to disappoint you ladies. (And I see a few men out there with some broken hearts!)
No, this issue deals with specific top lists, pull lists, and an interview! (We only take our tops off for interviews!)
Issue #5: Taking Off Our Tops –
[audio:http://www.comicreliefpodcast.com/podcasts/Comic%20Relief%20Podcast%20-%20Issue%20%23%205%20-%20Pulling%20Off%20Our%20Tops.mp3]
Or right click and download the file!
Don't forget, we're on iTunes as well.
Now on iTunes!
Our interview in this podcast was with Sal Brucculeri, who has a Kickstarter live! Please go check it out. Give the podcast a listen to know more about it. Here's the Kickstarter video:
Also, if you're interested in the idea of wearing one of our shirts (the average cost is about $20), please voice your opinion
here on Facebook.
They look something like this (we're weighing in different colors and designs, but want to get a rough idea of the interest first) –
In the event you want to just get to the info about the podcast…
00:00 – Intro By Sal
00:07 – Musical Entrance
00:33 – Maico Gives General Description For This Issue
01:00 – Such A Nice, Young, Man
01:10 – Isn't This X-Men, Amazing?
01:25 – No One Stays Dead, Forever.
01:50 – Knock, Knock, Knockin' On Heaven's Door
02:30 – Okay, Fine, We're Talking About Nightcrawler
03:10 – Tawmis' Rule – Do Spoilers After Talking About The Comic
04:15 – Why Can No One Ever Draw Nightcrawler Correctly?
04:50 – Is She As Crazy About Me As Much As She Is Crazy In General?
06:07 – Who Hires Harley Quinn As A Psychiatrist?
06:30 – Harley Quinn's Disguise
07:15 – We're Going To Have To Agree To Disagree
07:45 – Every Issue Shows Harley Quinn's Beaver
09:15 – Where's My Harley Quinn?
09:40 – The Joke's On You
10:35 – The New New Warriors!
11:15 – Comic Relief Podcast No Prize If You Know How To Pronounce His Name!
11:35 – Did Maico Just Say He Liked New Warriors?
12:30 – I Think Tawmis Loves This Version Of The New Warriors
14:00 – One Of The Many Reasons Tawmis Loves The New Warriors
14:40 – I Think Tawmis Cried A Little When Maico Asked This
15:40 – Christopher Yost Takes Over Amazing X-Men (With Firestar!)
16:40 – Keep An Eye On The New Warriors Podcast – Called The Crashpod
17:15 – Where You Will See The Crashpod Appearing
18:40 – Isn't She A Wonderful Woman?
20:10 – The Guy With Multiple Personality Disorder
22:22 – I Exposed Myself To Moon Knight (Not By Mooning Him)
22:45 – He's A One Man Team
23:00 – Delving Deeper Into Wolverine (Before They Made Him A Pansy!)
24:25 – Proving That Wolverine Isn't Metal
24:35 – Questing For Elves
25:00 – How Long Does It Take Maico To Read ElfQuest?
24:34 – A Hollow Death In ElfQuest #2
26:05 – It's A Set Up!
26:45 – BLAM! In The Back!
26:55 – Punishing Hollywood
28:39 – All Out War
29:30 – He's A Bad Mo-Fo
30:33 – Tawmis Has An Optimistic View Of Humans
30:50 – And Maico Agrees
31:30 – All You're Doing Is Helping The (Censor)
32:38 – Prepare To Be Startled
32:55 – Interview With Sal Brucculeri
33:24 – Sal Brucculeri's Background Into Comics
35:00 – What Influenced Sal Brucculeri's writing
36:00 – Sal Brucculeri's Webcomic
38:13 – Noir Feelings
38:34 – More Zombies!
39:30 – You're In Her Brain
40:15 – Bullet #7
42:00 – It Comes Out Every Tuesday. Who Would Have Guessed?
42:45 – Soul Men, Not Sole Men. Because Sole Is Singular. Men Is Plural.
43:00 – Basically Sal Brucculeri Owes His Younger Sister
44:30 – Comic Horror or Comical Horror?
46:00 – Starmage And Soul Men Partner Up
48:25 – Ninja Baseball Man
48:55 – And What The Heck is Ninja Baseball Man?
51:10 – Can You Separate The Bat And The Man?
52:52 – Hard And Flesh In The Same Question?
55:29 – Kickstarter For Ninja Baseball Man
57:49 – Sal Brucculeri Is All Over Twitter
58:40 – Hey! Who You Calling A Little Guy?
58:48 – Awww, We Were Sal Brucculeri's First!
59:03 – Outro Music
Podcast: Play in new window | Download
Subscribe: RSS