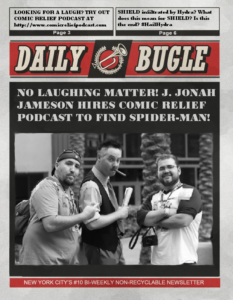 Are you looking for these issues? (Or any comics?) – Consider using our Affiliate Link to help keep the site ad free: Shop Here.
Well, what a great way to spend a wedding anniversary! What? No, Maico and Tawmis are not married! Sure, there's way too much bro love there – but they're not married! Tawmis' anniversary happened to fall on the same weekend as WonderCon 2014. So what did he do? He grabbed his wife, his partner (in crime, not in life!) Maico – and Maico grabbed his Comic Relief Podcasting Support Kiddo, Alicia – and together, the four of them hit the town! Or, at least WonderCon!
And fresh off the press, after a long day at WonderCon and drive back down to San Diego – Tawmis and Maico deliver a WonderCon report!
Issue #6: The WonderCon Report –
[audio:http://comicreliefpodcast.com/podcasts/Comic%20Relief%20Podcast%20-%20Issue%20%23%206%20-%20WonderCon%20Report.mp3]
Or right click and download the file!
Now, normally we'd break the time line down into segments – but since the entire thing focuses on WonderCon – we're going to skip the breakdown of the time! (And it's not your normal sized 45+ minute podcast!) This one's just under 20 minutes! It's just a quick run down of some of the things they saw at WonderCon, who they ran into, what they liked or didn't like! The WonderCon 2014 photos are on the Comic Relief Podcast Facebook Page (toss a LIKE on the page if you haven't already!). The settings have been changed so you can tag yourself or others, if you recognize folks in the photos.
I can tell you this much though – they did run into J. Jonah Jameson, who runs the Daily Bugle!
Now on iTunes!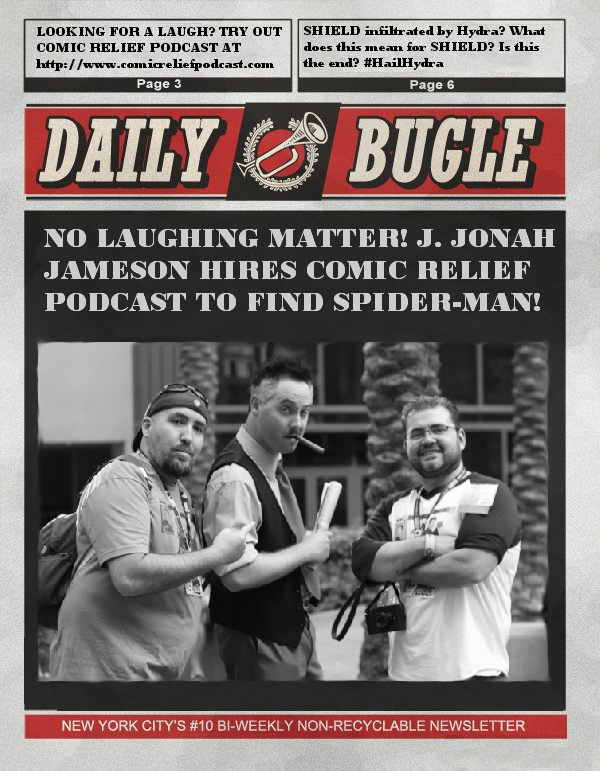 Enjoy!
As a side note – they also did the Heads Up Super Hero Edition Game.
Facebook:
Youtube:

And don't forget, our next appearance will be at the Long Beach Comic Expo.
We will be sharing a booth with our partner in crime, Colleen of Wyng'd Lyon Creations. So definitely come by and say hello!
How Do I Earn This Amazing Badge Ribbon?
Well, we want to have fun with this! So we want to make it available several ways!
We have four different tiers! (Doesn't matter which tier you decide to do! You still get the badge ribbon!)
Option 1: The Super Hero In You. You play the Superhero Edition of Heads Up with us! Not familiar with Heads Up? Take a look one of our videos! Essentially we would hold the iPhone to our heads – and a name appears, you give clues as to who is on there (without saying any part of the name – so for example, if it's "Superman" you can't say "Super" or "Man" but you could say "Clark Kent" or "Man of Steel" or "He's from Krypton!") The game records the video, and we will compile all the videos and put them on our Youtube Channel! And you get a snazzy badge ribbon!
Option 2: The Hero In You. Don't want to do the Heads Up game? All right, then strike us your favorite super hero pose (serious, silly, it doesn't even matter!) We snap a picture and upload it to our Facebook (so you can go in there and tag yourself and tell people how awesome it was getting our badge ribbon!)
Option 3: The Sidekick In You. We will have some random comic trivia. Just answer the question we ask – doesn't matter if you're wrong or right.
Option 4: The Innocent Bystander In You. You just walk up and ask us if you can have one!
Podcast: Play in new window | Download
Subscribe: RSS