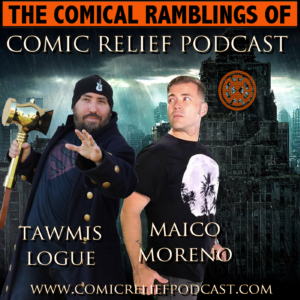 Are you looking for these issues? (Or any comics?) – Consider using our Affiliate Link to help keep the site ad free: Shop Here.
On May 3rd, 2014 – Jamie, of Southern California Comics sponsored a massive event for Free Comic Book Day! He invited us to be a part of it, when we bumped into him at WonderCon, and I am glad he did. We had an excellent time, and managed to piece together a pretty good podcast! There was some technical issues during the day (laptop overheated due to exposure to the sun – so we had to redo the entire interview with Chad Cavanaugh, who was a great sport, and the BEST person to be sitting next to us! Had the same crazy sense of humor as Maico and Tawmis!) Then for some weird reason, the thing stopped recording during Paul Horn's interview (so it randomly got cut short, sorry about that Paul!) Despite all of that – there was massive amounts of people, and a great time had by all!
You can go here to see the photos we took.
But that's not why you're reading all this? You just want to know where the latest, most awesome, podcast is, right? Well, wait no further!
Comic Relief Podcast – Issue #7 – Free Comic Book Day!
Now on iTunes!
[audio:http://comicreliefpodcast.com/podcasts/Comic%20Relief%20Podcast%20-%20Issue%20%23%207%20-%20Free%20Comic%20Book%20Day.mp3]
Or right click and download the file!
00:00 – Intro
00:26 – Maico and Tawmis Talk Free Comic Book Day
01:43 – Chad Cavanaugh, Creator of The Map Comic – http://grunt1bcomics.storenvy.com/
10:54 – Paul Horn, creator of Cook Jerk Comic – http://cooljerk.com/
12:37 – Tawmis Can Not Tell Time
13:20 – Mother Nature Does Not Play Well With Podcasting Outdoors
15:15 – Dexter (Not The Killer from HBO) sits down to talk Kevin Smith, Robotech, And Stuff – https://www.facebook.com/dto2865
30:35 – Joel Elad of So Cal Comic Con – http://www.socalcomiccon.com
35:38 – Jamie Newbold of Southern California Comics – http://www.socalcomics.com
42:00 – Barbara Marker, Comic Book Colorist – https://www.facebook.com/pages/Barbara-Marker-Artist/219883128040187
45:01 – Until Next Time
45:10 – The Outro
Podcast: Play in new window | Download
Subscribe: RSS