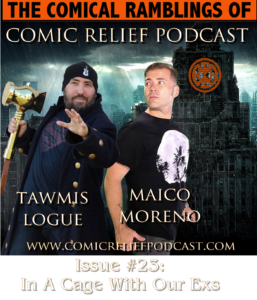 Are you looking for these issues? (Or any comics?) – Consider using our Affiliate Link to help keep the site ad free: Shop Here.
At long last! What you have been waiting for! (Insert whatever it is you have been waiting for). Now that you've waited for that (whatever that may be!), we'd like to announce the newest issue of The Comic Relief Podcast, where your two favorite (and rather handsome!) comic book nerds discuss the Guardians of the Galaxy 2 teaser, as well as the Logan trailer, and get into a discussion about Netflix's next big superhero hit, Luke Cage – and – and (just when you thought that was all we could talk about, right? Wait! There's more! If you continue to listen you will also get – Tawmis and Maico discussing the "original" X-Men as they begin a multi-part series, where they rate and discuss the laundry list of mutants who have managed to join the team "X-Men" throughout the extensive, long, years! Trust me, there's more mutants in that team than you can shake a stick at! (Chances are that stick you're waving around is potentially a mutant, too!)
So, sit down, pull up a seat, and get ready to listen to the soothing, beautiful voices of your favorite comic book podcasting hosts – Maico Moreno and Tawmis Logue…
[audio:http://comicreliefpodcast.com/podcasts/Comic%20Relief%20Podcast%20-%20Issue%20%2323%20-%20In%20A%20Cage%20With%20My%20Exs.mp3]
If for whatever reason, you can't stream it above, or you just want to save the MP3 file, to put on Repeat on your iPod as you drift to sleep listening to us, you can also download the episode here.
Now on iTunes!
Podcast: Play in new window | Download
Subscribe: RSS