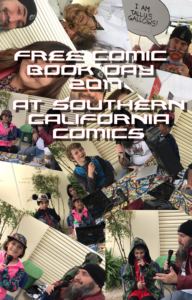 Are you looking for these issues? (Or any comics?) – Consider using our Affiliate Link to help keep the site ad free: Shop Here.
We're back! We – wait, no – I – was back at Southern California Comics for Free Comic Book Day! #FCBD Unfortunately, my partner in crime, Mighty Maico Moreno was off traveling the world. So I recruited my amazing wife, Astonishing Amiee Logue, to come co-host the podcast with me! We discuss Guardians of the Galaxy 2 and our thoughts, some Iron Fist, talk to Ryan, Adrian, Christina, and Dexter about everything from comics, TV shows, movie, and Dexter breaks down some Robotech news.
It's a lengthy podcast – standing at an hour and a half! Because the co-host being Amiee Logue, there's a bit of silliness in there (I mean, who here wants to know about Southern Charmed or The Challenge – because, guess what, that gets mentioned to!) This is what happens when you're married to the special co-host for 20 years. The plus side is, we can disagree – and we do – about things about Guardians of the Galaxy 2 and Iron Fist. But let me shut up, and let you download the podcast! Enjoy the witty banter between my wife and I – while you listen to the podcast – stuck in traffic or where ever it is that you subject yourself to this dose of awesome!
[audio:http://comicreliefpodcast.com/podcasts/Comic%20Relief%20Podcast%20-%20Issue%20%2326%20-%20Comic%20Relief%20Podcast%20-%20Free%20Comic%20Book%20Day%202017.mp3]
If you love us so much, that you want to put it on your favorite audio player on repeat, you can download the MP3 also.
Now on iTunes!
Podcast: Play in new window | Download
Subscribe: RSS