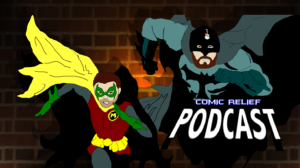 This was originally slated to be our third episode (first being Marvel, second being movies) – but then we shifted it around to be our 4th issue, so that we could do the Independent issue as Issue #3. So at long last, we finally get around to not only talking about DC Comics, but about The New 52 and what we like, dislike, and what we collect. (For me, that means just about every freaking single title that DC puts out under the New 52! – Tawmis).
Issue #4: The Not So New New 52 –
Audio clip: Adobe Flash Player (version 9 or above) is required to play this audio clip. Download the latest version here. You also need to have JavaScript enabled in your browser.
Or right click and download the file!
You can comment on Facebook here.
So first, let's do the "Cover Art" that I traditionally try to do for every podcast (I am sure Maico is going to love this one the best!)
Table of Contents:
00:00 – The Intro
00:26 – Canada Has Gone Away
00:50 – Maico Thinks This Is A Confessional Booth, Not A Recording Studio
01:11 – Let's Talk About The Not So New New 52
01:45 – What Happened Happened
01:57 – Superheroes Were 5 Years Old?
02:08 – You'd Think He'd Stop With The Robin Thing
02:43 – Who Has Spare Krytonite?
03:04 – The Problem Before The New 52 For Marvel Zombies Like Us
03:25 – Tawmis Is A Comic Book Pusher
03:50 – Maico Hates People Who Wear Green
04:24 – Weird Weaknesses
05:07 – Beware Tawmis' Future Self
05:50 – Who Is Typically Created More Powerful? Marvel or DC?
06:09 – The Eternal Fight Between Batman and Wolverine
11:17 – Let's Talk About Aquaman (And We're Not Even Fish!)
13:45 – Who Is Tawmis' Favorite Comic At The Moment? (Quiz Time!)
15:10 – Let Us All Prey – I Mean, Pray
16:00 – Can Someone Tell Tawmis How To Do Spoilers?
16:15 – "X Marx" The Spot
16:38 – Who Is Christy Marx To Tawmis?
17:17 – Tawmis Pushing Comics Again
17:55 – The Various Titles Of Batman
19:19 – Not Madcap But…
20:18 – Maico Does Spoiler Alerts Correctly
21:15 – When A New Writer Changes A Title Too Much (Hello Batwing)
20:20 – Mardi Gras? It's The Flash
22:45 – Maico Don't Listen – It's A Guy In Green (With Arrows!)
24:00 – More Green People (With Rings!)
24:30 – What Did You Say As A Kid, Tawmis?
25:45 – Where Do You Keep Your Stuff, Maico?
26:15 – The Flag Ship – Justice League
28:18 – Justice League Canada… Alpha Flight?
28:32 – Justice League International
29:15 – Colleen Told Maico Something
30:40 – Maico Hates Cats Too (Imagine A Green Cat!)
31:07 – And The Difference Between Catwoman and Gambit Is…?
31:36 – A Nocturnal Wing
32:54 – Sounds Like A Western – Redhood and the Outlaws
33:10 – Maico Hates Trucker Hats Too (Now It's A Green Cat Wearing A Trucker Hat)
33:30 – The Super Titles (Superman, Supergirl, Superboy)
36:07 – A Comic Book With Feelings
36:40 – His Freaking Name Is Calvin (Couldn't Remember At The Time)
37:15 – When You're A Wee Titan
38:13 – Let's Talk About Bad Vibrations (He's Popular With The Ladies)
39:57 – How Villains Month Helped Tawmis Find A New, Crazy Love
40:30 – What Kind Of Chicks Does Tawmis Love? (Quiz Time!)
41:53 – What You May Have Missed In The Batman: Animated Series
42:30 – Maico Just Realized The Beaver Joke
43:05 – The Cities In DC
43:30 – Okay Kids, Please Point To Wakanda On The Map
43:45 – She's A Wonderful Woman
45:00 – Katana, Not From Mortal Kombat
45:36 – Ravage Me, Baby!
46:25 – Wildstorm Character In DC
46:47 – A Team Of Seven Members
47:43 – What Are YOU Reading?
48:09 – The Outro (Yes, It Will Be A Word!)
Podcast: Play in new window | Download