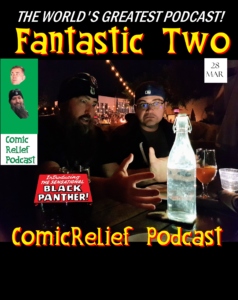 Are you looking for these issues? (Or any comics?) – Consider using our Affiliate Link to help keep the site ad free: Shop Here.
You. Yes. You. Don't look behind you. I am talking to you. Yes. You reading this right now. You didn't think it was going to happen did you? Don't look confused or surprised. I can see it in your eyes.
You didn't think we were ever going to do another podcast, did you?
Don't worry – we thought the same thing! But we're back! And better than before! (Okay, I am not sure if we are better than before, but everyone always says that when they're back… so there was this… unseen peer pressure to be like everyone else for a moment there!) If the silly cover image isn't giving it away – in this podcast we talk Black Panther – and I won't give away spoilers on this podcast… but this is one of the few times Maico and Tawmis agreed … they both hated the movie. Well. Correction. They hated that the movie came to an end. That's probably a more accurate statement. What else did they say? Well! Buckle up listener and give'er a listen down below!
If you love us so much, that you want to put it on your favorite audio player on repeat, you can download the MP3 also.
Now on iTunes!
Podcast: Play in new window | Download
Subscribe: RSS