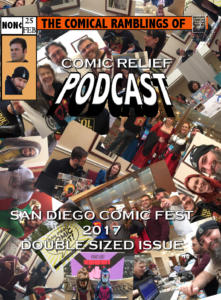 Are you looking for these issues? (Or any comics?) – Consider using our Affiliate Link to help keep the site ad free: Shop Here.
Hang on to your hats, true believers! This is a Comic Relief Podcast like no other! In this issue of Comic Relief Podcast, our mutant podcasters, The Mighty Maico Moreno and Uncanny Tawmis Logue, find themselves under siege at the San Diego Comic Fest 2017!
You can get a quick run down reading our previous blog, where I talk about what an incredible time we had at San Diego Comic Fest 2017, and all the amazing and wonderful people; and how it all came to be that we got ourselves a table at the event!
The list of really cool people we got to meet and greet and interview, is pretty amazing! Let me give you a run down (and the order that the interviews appear on the podcast – I think – it was 4:30am when I finished this!)
Now on iTunes!
I'd like to give a special thanks to Adam Johnson, who granted us permission to use his freaking epic Heavy Metal version of the classic X-Men cartoon theme song! You can check out Adam Johnson on Youtube, Bandcamp, iTunes, Google+, Facebook and finally on Twitter!
I also got to take photos with DancingRaptor as an insanely beautiful Sif and Eiraina as Wonder Woman. Honestly, this was one of my favorite events we have done, chalk full of some great and interesting interviews! We wanted our 25th issue to be double sized; and we did it. And it's not fluff. It's actually really great content! So – let me stop rambling and let you get to it, huh?
[audio:http://comicreliefpodcast.com/podcasts/Comic%20Relief%20Podcast%20-%20Issue%20%2325%20-%20Comic%20Relief%20Podcast%20-%20The%20Animated%20Podcasters.mp3]
If you love us so much, that you want to put it on your favorite audio player on repeat, you can download the MP3 also.
Podcast: Play in new window | Download
Subscribe: RSS