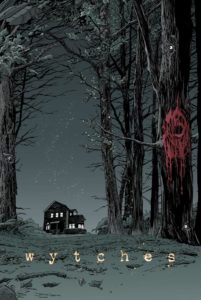 Wytches
Writer: Scott Snyder
Artist: Jock
(Caution, this book is for mature readers. This review is not though.)
Scott Snyder gives readers a new take on a horror classic in dire need of an upgrade. Witches, as we know and love them, are most commonly portrayed as magical elderly women that fly on brooms and have black cats. Scott Snyder looks to change that. The Wytches of Scott Snyder's dark story live deep in the woods and feed on children. Sound familiar? Well Snyder kept the good parts. What he changed is that they are not elderly ladies but instead primordial disfigured creatures that live in trees…and they're ugly as hell. They look like a Marilyn Manson album cover and a Tool video had a litter of babies….and then those babies grew up and fed on each other.  The Wytches carry an ancient scientific knowledge of nature that allow them to grant "wishes".
For example; if you are deadly sick, you can go out into the woods and ask for a cure from the Wytches.  But they won't just help anybody. No.  The Wytches need something in return. They need a name. A pledge. They need you to pledge the name of a child for them to eat! You have to be one selfish friggin adult to feed a child to witches. Well to nobody's surprise, there is a whole world full of selfish adults.
Story: B+
The story follows the Rook family after a recent move to the country. They are distancing themselves from a rather nasty incident that their daughter, Sailor, was involved in. Out in the country, Sailor is haunted by Wytches. She feels them lurking in the shadows and hears them whispering to her at night. Somebody has pledged Sailor Rook.
Art: A+
The art, artistic style and colors are simply amazing in this book. Every page has a unique splatter effect that give the story a jarring, twisted feel. The art matches the dark and mature tones of this story perfectly. Any one of the pages in this book could be framed and mounted on a wall. Granted, the aesthetic is that of a serial killer but artistic none the less.
Overall: A
If you followed his fantastic New 52 Batman run then you know that Scott Snyder can get dark. Boy does he get dark. Scott Snyder and Jock spin a twisted story that will make your skin crawl with suspense and anxiety. If you are a fan of the horror genre, if you like psychological thrillers or if you are just sick in the head, then this book might be for you.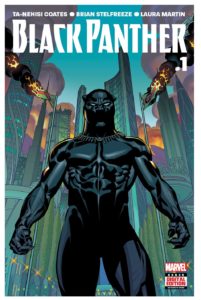 Black Panther #1
Writer: Ta-Nehisi Coates
Artist: Brian Stelfreeze
Color Artist: Laura Martin
I'll be honest, in my combined 15 to 20 years collecting comics I have never once purchased a Black Panther solo book. I, like many of you, was completely floored by Chadwick Boseman's portrayal of T'Challa in the recent Captain America: Civil War movie and was curious to read more about the King of Wakanda.
Story: A
Wakanda is reeling from a string of hardships. T'Challa has been away from his throne, leaving his sister Shuri as ruler in his stead.  Recent attacks by Doctor Doom and Thanos have decimated and humbled the society that ceremoniously boasted about being an unconquered land.  The death of Queen Shuri at the hands of Thanos has prompted T'Challa to return to Wakanda to retake the throne and restore order to his society.
Art: C
I wasn't blown away by the art style of this book. I'm still not sure if it's the colors that I had a problem with or the art itself. I feel like with it's deep black tones, it may have been better as a black and white book.
Overall: B
This story feels like new start for The Black Panther. MacArthur Fellowship award winning author Ta-Nehisi Coates drops the reader into a clearing fire. A jump on point for new readers. The Queen is dead, the King has returned, Wakanda is burning and from its ashes a new era will rise.  That's the impression that I get and I'm on board. If you loved Captain America's Civil War and want to get your T'Challa fix before his solo movie, then  I recommend this first issue and arc as it will most likely set up the future of Black Panther and Wakanda within the comic universe.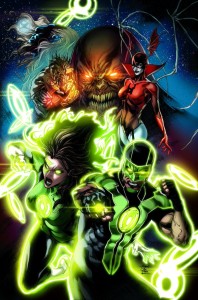 Green Lanterns: Rebirth #1
Writers: Geoff Johns and Ethan Van Sciver
Artists: Ed Benes and Ethan Van Sciver
Earth just got two rookie Green Lanterns, Jessica Cruz and Simon Baz. Jessica is an introvert/shut in and Simon carries a handgun. I'm not sure why a ring would choose a shut in or a member of the lantern corp would need a pistol, but whatever. Jessica and Simon are both Geoff Johns characters and I trust that he knows what he's doing since Rebirth is basically his event.
Story: C
Hal Jordan puts the rookie defenders to the test. Their first training mission goes terribly as Jessica and Simon have no idea how to work as a team. As punishment and as a team builder, Hal combines their individual power batteries into one big battery that they will both have to share.  Ugh, Thanks dad.  These two very opposite characters will need to figure out how to work together quickly, because the Red Lanterns have arrived on earth and they're ready to rage right meow!
Art: B+
Ed Benes and Ethan Van Sciver do an excellent job of melding their art styles into one. Andy Benes' art is a little sketchier and draws women very well. Ethan Van Sciver uses thicker lines and has a darker tone in general.  I could hardly tell that two different artists were trading pencils on this book.  The art is clean and top notch.
Overall: C+
Decent first issue, didn't necessarily blow me away. I understand that these two lesser known lanterns are hardcore fan favorites and many fans are very excited to see them in their own book. In their own book defending earth while Hal is away, none the less. I am not entirely familiar with them but they seem like interesting characters with a lot of potential for growth and development. Mix in the fact that their first arc will require them to go up against the Red Lantern Corp and you have my interest. Geoff Johns as a co-writer also helps. A lot.
Maico M. Moreno