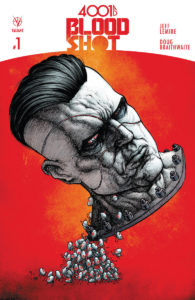 BloodShot: 4001 AD #1
Writer: Jeff Lemire
Artist: Doug Braithwaite
Color Artist: Brian Reber
4001 AD is Valiant Comics' ambitious 2016 summer crossover event.  Events in the comic, RAI, throw the Valiant continuity two thousand years into the future. Characters like X-O Manowar, Bloodshot and Shadowman each get a 4001 AD one shot to accompany the main mini series.
Story: B
BloodShot's bodiless consciousness wakes up in the year 4001 AD. He is confused and in nanite form, meaning Bloodshot is a swarm of microscopic robots. After locating the equipment needed to construct a body, he gets as far as crafting a head but is interrupted during the process. Human head / ninite hybrid BloodShot then embarks out into the future landscape to complete his final mission. 
Art: C
Doug Braithwaite's art is a bit too sketchy to me. A lot of lines and shading which is not really my favorite style. I prefer a clean lines, crisper colors and a more natural look. BloodShot's art isn't terrible but not my preferred artistic direction. I do like BloodShot's part ninite, part head hybrid appearance though, so that's pretty cool.
Overall: C+
Jeff Lemire gives us a nice quick one-shot with a sentimental ending. I appreciate sentimental stories, especially ones where they're unexpected.  It would have received a higher overall score if the art was a bit better. We'll see how Valiant fits future BloodShot into the bigger 4001 AD picture, perhaps he will play a significant role in the summer event.
Maico M. Moreno