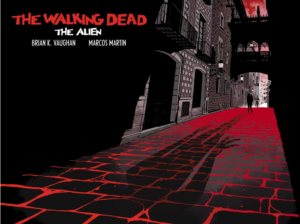 Title: The Walking Dead: The Alien
Publisher: Panel Syndicate
Writer: Brian K. Vaughan
Artist: Marcos Martin
Brian K. Vaughan has written a cannon Walking Dead story. That sentence alone should be enough to peak the interest of any comic book reader. My eyes dilated when I received an email from The Panel Syndicate advertising an official Walking Dead one-shot not published by Image comics nor written by Robert Kirkman but by Eisner Award winner, Brian K. Vaughan. The man responsible for Image Comics' Saga. (Go check out Saga, you can thank me later.)
The Walking Dead: The Alien looks and reads like a true Robert Kirkman/Charlie Adlard story. Artist Marcos Martin faithfully reproduces Adlard's signature black and white art style that has become synonymous with the comic book series. Vaughan writes a quick, character and dialogue driven, caption free story very much in the style of Kirkman.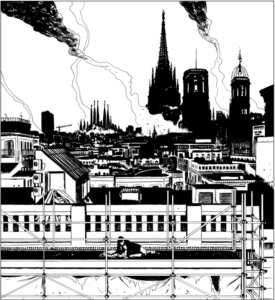 The Walking Dead: The Alien takes place far outside of Georgia but still within the comic world of The Walking Dead. This is the first time in the comic series that we are introduced to characters outside of Rick's group or that have crossed paths with Rick's group. Taking place in Spain, the story is set early in the days of The Walking Dead and follows a young American boy named Jeff trying to make sense of "the plague" happening around him. Jeff meets a local woman named Claudia who comes to his aide in the story's opening scene. They immediately start working on Claudia's plan to escape from the city without being eaten alive. The one-shot is connected to the main series by our Jeff who's name was only mentioned once in the early issues of the main series. I will refrain from spoiling the story but I highly recommend fans of The Walking Dead comic to read this one-shot as they will not be disappointed.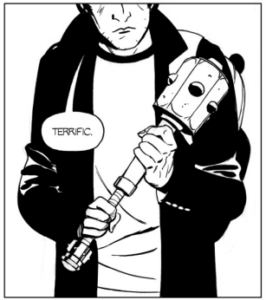 The Walking Dead: The Alien can be downloaded from panelsyndicate.com. If you are not familiar with the Panel Syndicate, it is a site created by Vaughan and Martin where creators can deliver original comics directly to a global audience, for whatever price each reader thinks is fair. That's right, you pay what you like. So go check it out and tell us what you think about The Walking Dead: The Alien.
By Maico Moreno