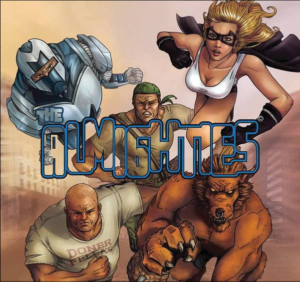 Title:The Almighties
Publisher: Actuality Press
Artists: Pablo Zambrano, Eleonora Kortsarz, Ron Gravelle, Fran Jung & Graham Pearce
Writers: Sam Johnson & Mike Gagnon
Saying that the Almighties are a dysfunctional team of superheroes is an understatement. When I say the Almighties are dysfunctional, I mean seriously dysfunctional. This is a team that makes about as much sense as bringing a gyro to a super powered fight. That's right, you know that delicious rotating slab of lamb that you see at greek restaurants? The lamb that the chef carves and places between some tasty flatbread with delicious tzatziki sauce? Imagine pulling that entire rack off of the spinning warmer and using that as a weapon. Why am I bringing this up, you ask? Because this is the actual weapon of choice of the Almighty hero Stefanos.
Welcome to the world of the Almighties.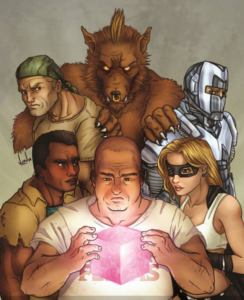 The Almighties are a bizarre team of heroes fighting, cursing and wisecracking their way through missions. A mix match of extremely random personalities ranging from US military vet turned psychopathic merc to – well – a werewolf.
Their brash leader, Max Mitchell, a.k.a. "Maxi-Tron," was too cool for nerds and too smart for jocks. Never being able to fit in, this cocky young man was inspired by superheroes to build himself a super suit of Armor. With said armor, he slogged his way up the super hero ranks as a member of low level teams to earn the title of leader of the Almighties.
Phineus Clayworth was the meanest s.o.b. in London's punk scene. He drank, he fought, and he didn't really give a damn – about anything. As if this bad attitude and disregard for human life wasn't enough, this teenager was bitten by a werewolf after he and his mates beat the living daylights out of a club bouncer. Take a sorry wasted youth like Phineus and give him werewolf powers and you have yourself the team's wildcard, Nite Fang. He just as easily could have been a villain in this book, but instead decided to join the side of righteousness. It will be interesting to see how his character and personality is developed in future arcs. Will he remain a punk? Will he mature into a true hero? Only time will tell.
The most interesting character (to me) is Katie Graeme, a.k.a. "Ms. K." A Canadian super heroine who left an abusive relationship to become a crime fighter. She has dedicated her life to helping others all while dealing with her own insecurities and anger issues. Her amazing powers were suppressed on the demand of her ex husband which she now has to tune and master all while learning to be her own woman. There is a ton of potential with this character and I am excited to see in which direction the writers take her. Will she learn to be a strong independant woman on the inside to match her super heroine exterior or will she simply allow the team to fill the co dependant hole left behind by her ex husband?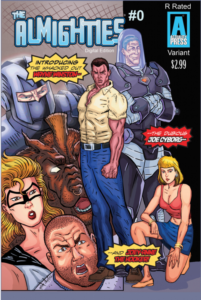 The Almighties blurs the line of superhero action and sci-fi with the dark sense of humor that you would normally see on Cartoon Network's Adult Swim. It makes the reader wonder how these contrasting personalities can ever maintain enough cohesiveness to continue to call themselves a team. Strong characters, dark humor, action and dysfunction – The Almighties are ready to take on the world, one giant killer Hitler robot at a time. The Almighties #0 is Out Now and available at at www.almightiesamass.com and www.comixology.com
By Maico Moreno
Twitter and Facebook