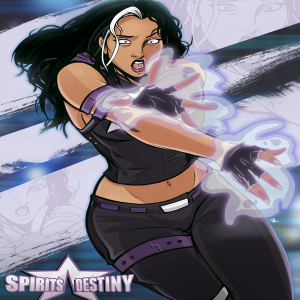 Title: Spirits Destiny
Writer: Dorphise Jean
Artists: Zack Dolan (Cover)
Edwin Galmon
Saint Yak
Richard Perotta
Alexander Malyshev
Evading Destiny
Spirits Destiny is the inaugural comic of writer/creator Dorphise Jean. Set in North Miami, this tale centers around the home of a young Haitan-American woman by the name of Destiny.  She lives with her mother and her grandmother.  Destiny deals with many of the things most teenage girls deal with, boys, school, grownups and bullies. Things are about to get more complicated for her as she begins to unravel details about her parents, her past and her true destiny.
This first issue immediately introduces us to an armored intruder breaking into the family home. The intruder makes his way into the baby's room and addresses said baby as his daughter, Destiny. Davine, destiny's mother, is alerted to the intrusion and immediately calls the police. She confronts her ex, Brian, but not before he injects her with a mysterious serum. Tensions quickly rise and a fight breaks out between the scorned lovers.
There is more than meets the eye with this couple. They are obviously trained combatants as they trade vicious blow after blow.  Who are they really? Is her father a soldier? A mercenary? An assassin? Was her mother?  Our introduction into Destiny's origin raises many questions but ends with the young woman suddenly waking up from a dream. Was it a dream? Or was it a vivid memory?  This opening sequence sets that pace for what is sure to be an action packed comic brimming with family drama and turmoil.
http://spiritsdestinycomics.com/
https://www.facebook.com/SpiritsDestinyComics/
We will be having some of the folks behind this creation in an upcoming podcast. We're still trying to determine a time to record the session with them – so keep an eye – and an ear – out for that in the near future.