NESS was a crowd funded Kickstart project that met it's goal. And it's definitely a book that deserves your attention. They sum it up beautifully on their Kickstarter page, with this simple explanation: NESS is a Del Toro/Lovecraft-inspired cosmic horror story set on the shores of Loch Ness.
Chris Welsh is the writer behind this fantastic story, with incredible art by Rob Carey, complimented by Dee Cunnifee's amazing colors, and Robin Jones' lettering!
This book simply does everything right. The story is really well thought out. The characters in the story –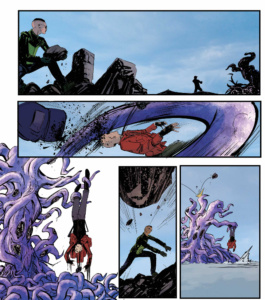 just off the first issue – are developed nicely! The art is fitting with the dark shadows, which helps with the color and tones.
If I were to nitpick anything wrong – and that's what I would have to do – is nitpick – because, for a good horror type story, this thing is really good! But the things I would have done slightly differently, is make more use of the main characters names. We learn Alexi's name pretty quick, who has the camera. We learn Seah's name, as the one who collects books. We don't even learn (what I suspect is the main character)'s name until near the very end. And the African American/Black character? We never even see his name mentioned in the story. I think a more heavy use of the character's names would have helped drive it home a bit more.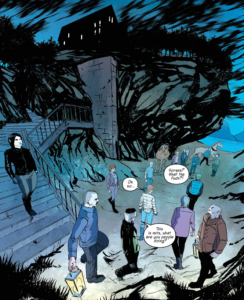 The Scottish guy in the bar, muttering about the disappearing cows; I would have just left him there. Him, drinking and muttering, through several panels, often in the background – then suddenly sitting up and saying he has to find the cows or the wife's going to kill him? That just seemed oddly out of place.
And the third thing I'd nitpick, is when we see the creature chasing our main characters, and it makes a massive jump and lands on the bridge. I think seeing it be able to make such a massive jump actually took away from the creature's slithering, creepy vibe.
But again – that's just if I had to find nitpicks or things I would have personally changed! But seriously! If you love the Lovecraft type of horror – do yourself a favor – check out the NESS Comic Facebook page and Chris Welsh's site!
– Tawmis