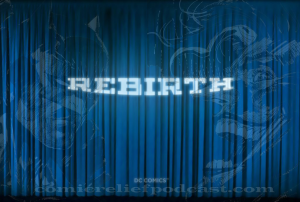 So it looks like DC Comics' attempt to get back into the swing of things, in the comic book world, with their latest attempt to appease everyone with Rebirth has finally been revealed.
---
So let's run through some of those details about Rebirth and what they plan to do…
DC Universe: Rebirth #1 ships Mayb 25th. It will be $2.99 and be 80 pages long.
Other titles will follow, and begin their new numbering – at, you guessed it – #1.
Detective Comics and Action Comics will return to their original numbering.
There will be books that are published monthly, and others that are published twice a month.
Every book, regardless of their publishing schedule, will be priced at $2.99.
There will be 32 total ongoing titles; 17 twice-monthly and 15 monthly titles.
DC will also be publishing 23 "Rebirth" one-shots ahead of these new ongoings.
Dan Didio, DC Entertainment Co-Publisher said, "At DC we believe in superheroes, and what makes them great.And, we also believe in the direct market and the core comics fan. 'Rebirth' is designed to bring back the best of DC's past, embrace the stories we currently love and move the entire epic universe into the future. We are returning to the essence of the DCU. With 'Rebirth' we are putting the highest priority on the direct market and we will continue to create and cultivate new opportunities for retailers to thrive and prosper, grow readers, fans and customers."
(And by "growing fans and readers" – they mean, by saying, "Look at all these #1 issues you can jump on with!" And fail to mention that there's a ton of now – getting to be slightly convoluted – continuity to deal with).
Who are the creative teams behind these new books? That news will be revealed at WonderCon (we will be there and see if we can grab the scoop!) – though, the event will also be live-streamed on DC's
Creative team information on DC's new lineup is set to be revealed next month at WonderCon in Los Angeles, on Saturday, March 26. The event will be live-streamed on DC's YouTube channel – so if you can't go – be sure to tune in there!
So what are the titles that have been revealed so far?
June:
Rebirth Specials:
AQUAMAN REBIRTH #1
BATMAN REBIRTH #1
THE FLASH REBIRTH #1
GREEN ARROW REBIRTH #1
GREEN LANTERNS REBIRTH #1
SUPERMAN REBIRTH #1
TITANS REBIRTH #1
WONDER WOMAN REBIRTH #1
New #1 Issues (Shipping twice monthly):
AQUAMAN #1
BATMAN #1
THE FLASH #1
GREEN ARROW #1
GREEN LANTERNS #1
SUPERMAN #1
WONDER WOMAN #1
New Issues (Shipping twice monthly):
ACTION COMICS #957
DETECTIVE COMICS #934
July
Rebirth Specials:
BATGIRL & THE BIRDS OF PREY REBIRTH #1
HAL JORDAN & THE GREEN LANTERN CORPS REBIRTH #1
THE HELLBLAZER REBIRTH #1
JUSTICE LEAGUE REBIRTH #1
NIGHTWING REBIRTH #1
RED HOOD & THE OUTLAWS REBIRTH #1
New #1 Issues (Shipping twice monthly):
HAL JORDAN & THE GREEN LANTERN CORPS #1
JUSTICE LEAGUE #1
NIGHTWING #1
New #1 Issues (Shipping monthly):
BATGIRL #1
BATGIRL & THE BIRDS OF PREY #1
THE HELLBLAZER #1
RED HOOD & THE OUTLAWS #1
THE SUPER-MAN #1
TITANS #1
Fall
Rebirth Specials:
BATMAN BEYOND REBIRTH #1
BLUE BEETLE REBIRTH #1
CYBORG REBIRTH #1
DEATHSTROKE REBIRTH #1
EARTH 2 REBIRTH #1
SUICIDE SQUAD REBIRTH #1
SUPERGIRL REBIRTH #1
TEEN TITANS REBIRTH #1
TRINITY REBIRTH #1
New #1 Issues (Shipping twice monthly):
CYBORG #1
DEATHSTROKE #1
HARLEY QUINN #1
JUSTICE LEAGUE AMERICA #1
SUICIDE SQUAD #1
New #1 Issues (Shipping monthly):
BATMAN BEYOND #1
BLUE BEETLE #1
EARTH 2 #1
GOTHAM ACADEMY: NEXT SEMESTER #1
SUPERGIRL #1
SUPERWOMAN #1
SUPER SONS #1
TEEN TITANS #1
TRINITY #1