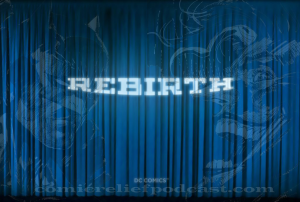 Jim Lee recently took to twitter and posted an image of blue curtains with the words "Rebirth" across it and "DC Comics" at the bottom. (I tossed in the Batman and Joker art layers on top of it over there, for dramatic effect – art done by Jim Lee). There was initial speculation that DC Comics would be "Rebooting" the DC Universe again (after the most recent reboot being The New 52, which some folks loved, some liked, some absolutely hated… As someone who was not into DC Comics, I actually loved the New 52, because it made the Universe of heroes relatively "new" – heroes had only been around roughly five years; all continuity got a "fresh" restart (a lot of origins remained the same, some took some drastic changes). In an attempt to appease those fans that so strongly hated The New 52, DC Comics attempted to make "all previous versions of DC, Valid Again!" in their (what I consider, very chaotic) "event" called Convergence – I made no attempt to follow what was happening, and essentially, during this duration picked up no DC Comics that were involved in it. Fast forward to post Convergence, and where as the New 52 gave us a clean slate; now Convergence had made, in my opinion, a mess of things. So once again, DC Comics goes to – well, – the drawing board. It's there that they begin to discuss ways to "fix" things – and now, here we are with this idea of "Rebirth."
Initially thought to possibly be another reboot (DC is not the only one guilty of this; the folks at Marvel do reboots like it's required for breathing, it feels like!) – and that The New 52 would be flushed away in favor of this Rebirth. However, now it seems that this won't be a reboot at all, but rather a relaunch. And that is, continuity (for what it is, post Convergence) will remain intact – however, books will be "rebooted" with #1's again. And this time, the focus will be on books that have existing Television shows (Flash, Arrow, for example), movies (Batman, Superman, Wonder Woman, for example) and/or cartoons (Teen Titans – but rumor has it, sans the "Teen" part in the title).
Will this be a good move? Time will tell.