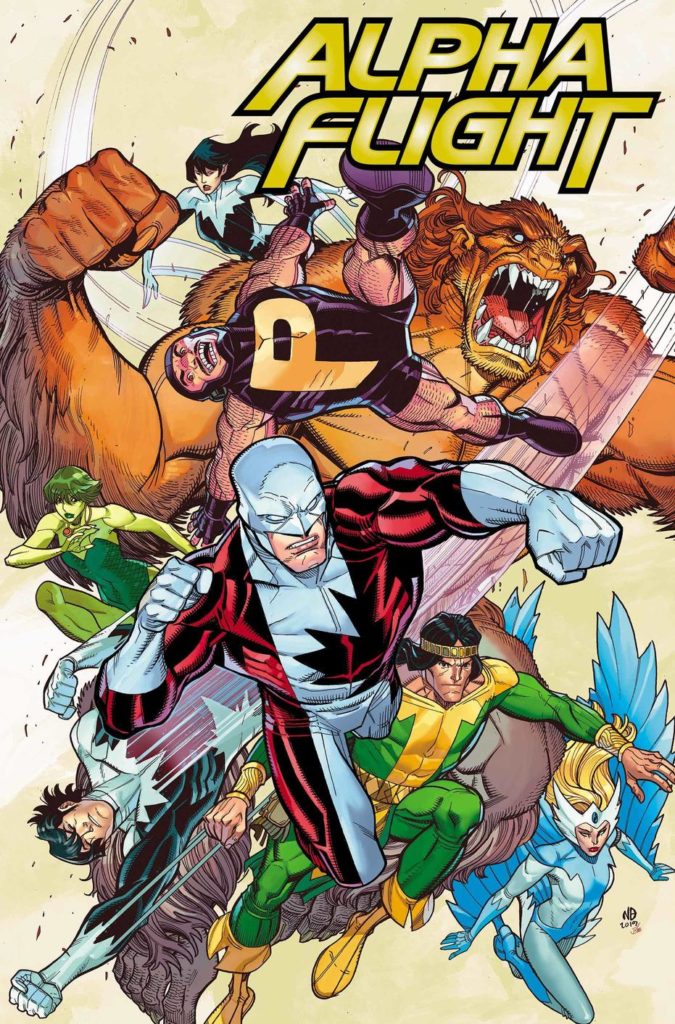 All right, Marvel. You have my attention.

Apparently, this September, we're getting – what I assume to be a one shot, called Alpha Flight: True North #1.

From what I've read on Marvel's site, the story will feature: Puck, Snowbird (although they wrote her name as Snow-bird, sigh), Talisman, Northstar, Marrina, Guardian and Vindicator. If the image to the left, also featured on their site, is any indication; it also has Shaman, Sasquatch and Aurora on the cover; but does not have Talisman or Guardian (assuming Heather is going by Guardian, and Mac is Vindicator still?). I mean, Shaman did briefly go by the moniker of Talisman when he took on the Talisman headpiece – but he also changed his costume… and it seems like it'd be a bad idea to shift him over to Talisman, and take out Elizabeth (his daughter) as Talisman.

Like I said, I assume this is a one shot – and not a limited series (or even an ongoing series) – but something Chris Robinson (the editor, I am guessing?) said was:
To celebrate the Toronto Raptors winning the NBA Championship, we're bringing back the greatest of the Great White North, Canada's premiere super-team Alpha Flight! And we've assembled a super-team of Canadian talent behind the scenes for extra authenticity. Trust me, these guys are going deep into the Department H files to tie-up those loose Alpha Flight story threads that have been keeping you all up at night. You wanted dip with the chips? Here it is!
The "these guys are going deep into Department H files to tie up those loose Alpha Flight story threads"… There's probably one (or two) that they're actually going to focus on, because Alpha Flight (in their original run) changed hands quite a few times, which resulted in different writers starting things that never got resolved. So this is why I don't think they're really going to deep dive into everything. I assume this one shot is going to pick up some dangling thread, that they got a cool idea to do a story on.
So who is behind the book? Well, if you thought it was one writer and one artist – you'd be wrong (which also makes this unusual) – so here's what we know! It's written by: Jim Zub, Jed MacKay, and Ed Brisson. Art is by: Max Dunbar, Djibril Morissette-Phan, and Scott Hepburn, with the cover by Nick Bradshaw. (The cool – perhaps odd? – twist is – they're all apparently Canadian? How fitting, if true!)
Regardless, I will be picking this up and hoping for the best!