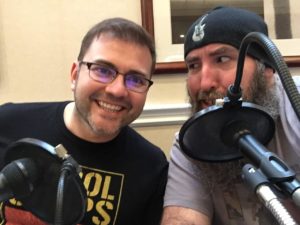 I'm not going to lie. We're way too backed up with potential interviews due to our scheduling of the podcast becoming very erratic. So what I am going to do is just list them, where to find them, so folks can check them out.
I want to thank everyone who has reached out to us to be on our podcast and talk about their comics – but time is currently not on our side when it comes to scheduling when we're going to be able to sit down and do our next podcast; and the submissions we're getting from people keep building (which is utterly flattering!), but it's also getting to my anxiety that I can't accommodate these people who have taken the time to share their comics with us.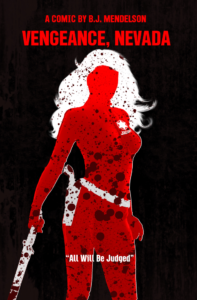 So first one I wanted to mention is Vengeance, Nevada by B.J. Mendelson. He was kind enough to say that the first issue was ours to post, share, and distribute how we'd see fit. So if you're interested, I'd recommend downloading it from our site right here: BJ Mendelson – Vengeance v04 copy. The other issues of Vengeance, Nevada can be purchased through ComiXology at VengeanceNevada.com for $2.99. A little background, Issue #1 Credits: Cover Art by Isidore Koliavras. Interior Art and Letters by Peter Czaplarski. (Pronounced Cha-Plar-ski). Story and characters by B.J. Mendelson.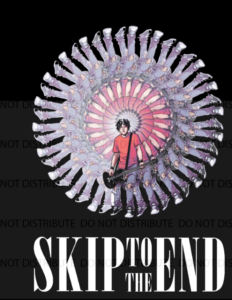 Next on the list is Skip To The End. 
Bassist-turned-junkie Jonny Wells is addicted to his past, but the only way to get there is through his music. Insight Comics is publishing Skip to the End, a riveting graphic novel created as an allegory to the history of the legendary band Nirvana.
Skip to the End tells Jonny's story as he tries to cope with his bandmate and best friend Kirk's suicide. Twenty years later, Jonny struggles with heroin addiction, lost in the songs they created and desperate to relive the past—until one day he discovers he can. With the aid of a mysterious guitar, Jonny begins to make trips back in time, searching for the roots of Kirk's unraveling. At Nar-Anon meetings and in conversations with his sponsor Emily, he starts to cope with the events that led to Kirk's death. But by the time Jonny realizes that his visits can't change the present, he might be too addicted to stop.
Skip to the End explores music's transportive property, while sharing a story of friendship, combating addiction, and suicide awareness.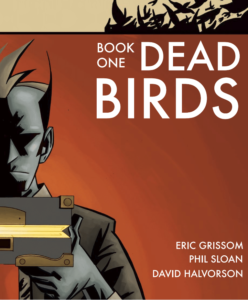 They're also responsible for another book called Dead Horse, which I would recommend. I've only read Book One: Dead Birds, but it starts off with an interesting hook, that leaves you turning the pages, wanting to know what's going to happen next. Dead Horse was a part of a Kickstarter project that was funded.
If you're interested (and again, I think you should check it out!), please take a moment to visit the Dead Horse Website to learn more.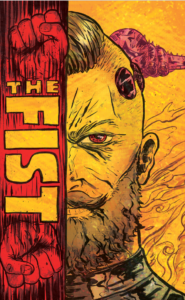 Next on our list is the colorful, post apocalyptic, sci-fi, mixture of chaos! This is The Fist, who – now, follow me here – has a spaceship (because we all need a space ship if we're doing the scifi thing!) – but there's something special about this space ship. It's… his wife! And if someone talks poorly about his ship – well, they get punched! And punched hard! From the writer, Jordan Kroeger:
It's a big, action-packed, weird, silly, four-color, fun, dumb love-letter to all the comics, cartoons and video games that formed my brain as a kid.

It's a book I've been working on and off between projects for four years. I "write", illustrate, color, and publish it all on my own. I say "write" because it's more of a freeform kind of thing. I use a loose outline, but make up a chunk of it as I go.
The Fist currently has an active Kickstart going, and you can contribute on their Kickstarter Page for The Fist!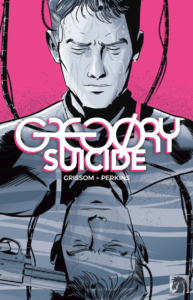 We're not done! Next is a comic from the folks at Darkhorse, who reached out to us working on a book called Gregory Suicide.
​Gregory Suicide is available in comics shops now from DARK HORSE BOOKS. This hardcover graphic novel is written by Eric Grissom (DEADHORSE) with art by Will Perkins (Berware…Comics)
An obsolete A.I. program known as Gregory wakes in an unfamiliar world and is haunted by the memories of his past lives, each ending in death by his own hand. On the path to discovering the truth about himself, Gregory slips into the trenches of two opposing forces: the deadly A.I. who replaced him and a group of humans who want to destroy him and all his kind. In the end, Gregory must choose a side in the coming revolution and the key to everything may lie in the strange visions he has between life and death.
Set in a dystopian future, the thought-provoking science fiction explored in the the book's 144 pages brings to mind the likes of Blade Runner, Looper, and Westworld. Rather than merely relying on genre tropes, Gregory Suicide uses the vivid aesthetic as a backdrop to a universal story about human struggle.
"Gregory Suicide is the hardest and most rewarding thing I've ever worked on," explains Perkins. "It deals with what it means to be flawed and the wonderful humanity in that. It tackles our disposable society while still having plenty of murder and mayhem. There is also a heart in Eric's writing that you don't find in typical genre comics."
For a taste of Gregory Suicide, a free prologue can be downloaded from GregorySuicide.com, where you can also learn more about the graphic novel.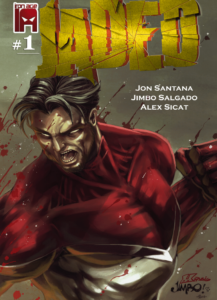 Next on our list, coming from Iron Age is a book called Jaded. This was recently launched – and funded – through their Kickstarter – Which is still live – so feel free to donate to a great book!
Jaded takes a hard look at four super heroes facing personal tragedies that find that their lives – and even their core values – are forever changed.
It all begins with Adam Sovereign who has a persistent suicide jumper forever change his life… The following issues follow other characters (who are all beautifully designed) including Kid Prodigy, Grady O'Connell, and Etherea! The world… is it about to be destroyed or saved… by the arrival of Adam Sovereign? Go check out their Kickstarter – check out the rewards – and back this thing up!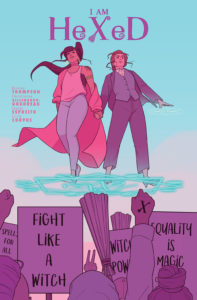 We're not done yet! (I told you we had a lot backed up, and now you can see my anxiety of why I felt guilty not being able to accommodate all these wonderful projects!) James Emmett reached out to me about their book I Am Hexed. Here's what James had to say:
I'm James Emmett, the writer of I Am Hexed, a comic that we're going to be releasing through a Kickstarter campaign this June.

Kirsten Thompson is our writer on I Am Hexed, whose past work includes being the linguist on Kim & Kim Volume 2, editing Strange Wit, The Bargain, and other projects. She is also a staff writer at ComicsMNT, and has contributed to Teen Vogue, Femsplain, Women Write About Comics, Talking About Comics and various other sites.

Christianne Goudreau is doing amazing work on the interior art for I Am Hexed. Christianne was also recently nominated for a Dwayne McDuffie Award for Diversity for the webcomic Full Circle.

Sara Duvall (Little Corvus), the cover artist on I Am Hexed, is an Eisner-nominated queer, non-binary Latinx comic artist. They've worked on projects such as Stela's digital short-comic Deja Brew, and recently wrapped up a historical fiction graphic novel from Abrams, debuting in 2018.

Taylor Esposito is a comic book lettering professional and owner of Ghost Glyph Studios. As a staff letterer at DC, he lettered titles such as Red Hood and The Outlaws, Constantine, Bodies, CMYK, and New Suicide Squad. Taylor has also been credited on numerous titles for Marvel as a production artist.
So what is I Am Hexed, you ask yourself?
Hexed is a magical thriller mystery. There's magic, personal drama, politics, and an accidentally carnivorous plant. Witches have been a part of the political fabric of Washington D.C. since it was founded. It's only within the last few decades (since the 1960s, witches chose to show off their broomsticks) that they have revealed themselves. Now, with the struggle for equality ongoing, Charlotte Helm, a junior staff member from Roanoke has been thrust into the murky and dangerous waters of political games between witches and their political adversaries.
With her boss under suspicion for political corruption, Charlotte, her ex-girlfriend and whatever other help she can find, scrambles to keep one step ahead of the political and magical forces hunting her as she tries to figure out why she's D.C.'s Most Wanted Witch.
I Am Hexed is heading to Kickstarter soon. Be sure to follow them on https://www.iamhexed.com/ and on Twitter for updates on their upcoming Kickstarter!
UPDATE 06/19/2018: The I Am Hexed Kickstarter is now live!
The last one is not a comic – but has to do with comics! Jaime S. and I chatted comics on Twitter – and they shared their piece that they wrote in regards to Nightwing & Batgirl – and it's a long piece – but it's also so very well done – and stays true to the characters! You can tell there's a lot of caring and thought that went into the Nightwing & Batgirl: Year One piece. So if you're interested, you can read Jaime's piece right over here.
Once again, I want to thank everyone who submitted to us. Sorry we couldn't accommodate doing an actual interview on the podcast. Perhaps sometime in the future! But I wanted to get a chance to talk about your books – at least in a post!