I've not watched wrestling since the days of Triple H, Heart Break Kid, and X-Pac made up Degeneration X. So when Edward Kuehnel reached out to me and asked if I would like to review a wrestling "themed" comics – I was, admittedly – skeptical, because my interest in wrestling stopped in the mid 90s or so.

But then, I started reading this comic – and immediately began laughing. This is a comic that has some brilliant moments of comedy through the dialogue – and even has some heart warming moments (between our big star and his love interest, Linda).
It's not afraid to poke fun at itself, or even, the whole wrestling thing in general, for that matter. A lot of the dialogue and characters are over the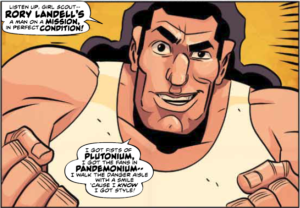 top – and have their great slogans ("Austin 3:16 says I just whooped your @$$!" for example, for you WWF – er, WWE – fans). Our hero is no different – he has his own, over the top slogan that had me chuckling.
But if you think it's just people in this – no. You'd be wrong. There's a wrestling bear too – and he's one of the top show draws! (He brings ma, pa, boys and girls to the show!) I even love how they stay true to wrestling terms (heels turning face, for example; is a villain turning hero) and jobber (someone whose not popular, and there, pretty much to take the fall).
Our would be hero decides to leave – and try his luck on his own, and the story takes a strange twist – but the humor keeps up throughout – and we finally see Planet Wrestletopia at the end.
One thing that was odd – is several times, they "cuss" (the "bad word" for poop), but then in one of the panels, use the traditional comic "cuss" (using #$%! instead). All in all this is a really fun comic and I'd highly recommend it!
Find out more about the creators: Ed Kuehnel and Matt Entin, while Dan Schkade is responsible for the art and Marissa Louise did the colors and Dave Lanphear doing the lettering. You can check out Suspicious Behavior Productions website, follow them on Twitter, check out their Facebook page, check out their Tumblr page, check them out on Amazon, and finally check them out on Comixology!
– Tawmis
From the top rope!