First, can someone tell me why they changed the name to "Stan Lee's Los Angeles Comic Con" from "Stan Lee's Comikaze" – is it because they wanted to make it sounds like a bigger thing? Comikaze was too playful of a name? Needed something to go up against the "San Diego Comic Con."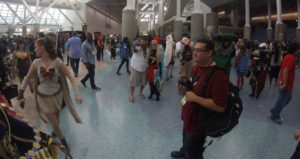 I should have known something – or, everything – was going to go wrong. Somehow this convention flew under my radar (I'd gone all the previous years, since it's creation) – and I normally got a notification, since I go as a Professional. But this year, I either got no notification, or it slipped into my "Spam" folder somehow.
So, when I learned of it – you know, the week of the actual event – I called my good friend, Chuck, who I've known forever – and asked if he and his son wanted to go (since it's usually the Three Amigos who go) – but his son had to work. So it was just going to be me and Chuck this year. So I scrambled to buy two tickets online, my amazing wife landed us a hotel room – and we were set.
The drive from San Diego to Los Angeles wasn't so bad… however, once we got into downtown Los Angeles, it was a nightmare. More so than normal. There was an insane amount of construction going on around the hotel we were staying at (The Westin). It literally took an extra 30 minutes to get to our hotel because of all the detours. But all right – we made it! Go and check in, and head up to our room – which smelt like a hundred smokers had gathered there to pound down as many cigarettes as they could before we got there. So back down we go – explain the situation, they apologize, score us a new room, give us some free breakfast vouchers, and we're good to go!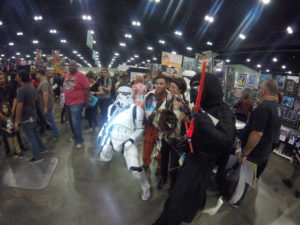 Not wanting to brave the madness of all the construction – we called an Uber – who also happened to be unaware of all the construction around out hotel – so it took him awhile to get to us. He had another passenger in the car, that we ended up dropping off first (this after going through a number of detours, alleys, and avoiding movie shootings where roads were closed) before finally making it to the convention center.
Now the con opened at 10am, and we were just getting there at noon, because of all these delays. So you'd think we'd just hand in our paper tickets and get our badge right? Because it's been open for two hours – there'd surly be no line! Or at least it'd be a small line, at the most. Maybe – maybe – a 10 or 15 minute wait? No. Let's try this – a line that snaked around several times, that resulted in a 1.5 hour wait. That's right. The Con has been open for 2 hours – and there's still a 1.5 hour snaking line.
We finally did get inside. And there were people everywhere. And there was still a massive line behind us that wasn't yet inside. Now, I admit – I am an Introvert – I don't enjoy massive crowds and being packed like sardines. And I've been – as I said, to all the other "Comikaze" cons – and the amount of people this time seemed like it had tripled. I felt like I couldn't get into a booth to look at anything, without fighting my way through people. Even the small press rows and artists were packed. Probably good for them, except stopping to see what a booth was about was virtually impossible. It's like people were packed in there, just… wandering lost… not always looking, but shambling around like packed zombies! Even the "foyer" area where the Cosplayers usually hang out to have their photos taken seemed unusually packed…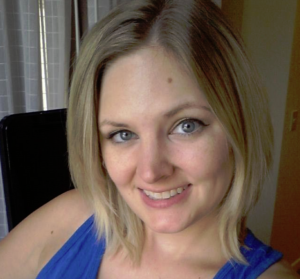 I did manage to see Joie Foster and say hello! She's one of the coolest cats (or Unicorns, if you ask her) you could know. The artist alley thing was so packed, it was a very quick hello and hug. Unfortunately, Chuck and I were so caught in the storm of people, that we didn't get to see her on her panel that she was a part of. But trust me, follow her on DeviantArt, tumblr, Twitter, her website, Instagram, and don't forget to check out her web comic, Clucked which she does with her husband Joel Foster, and check out her comic, Heavenly Kibble Guardian Corgi.
This was the first con, that I actually walked away – with nothing. Not even much in terms of pictures, which I usually take a lot of.
I remember when Stan Lee had first said, he wanted Comikaze to be about comics… But I think he's come to realize that comics have bled into the TV and Movies media… and now with his convention being in Los Angeles, he wants it to be the biggest comic convention, with everything and anything that has to do with comics – not just comic books – but every media that touches it… and for me – I am not sure that bodes well. But for the Convention? And for Los Angeles, they will probably love it.
The Introvert Podcaster,
Tawmis.