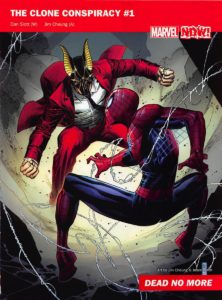 Now we head into the third round! Coming up we have The Clone Conspiracy – I can't imagine this is going to be an ongoing series. Dan Slott typically handles Spider-Man very well. So I may pick this up and see what's up with this cover. I am not sure who it is on the cover (other than Spider-Man) – it looks like an Anubis head (but it also looks like a Jackal, which would make sense with the title of this book – but, let's be real – did we need another Spider-Man related book?) Creative team is: • The Clone Conspiracy #1 by Dan Slott, Christos Gage & Giuseppe Camuncoli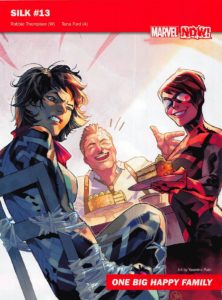 Speaking of Spider-Man related books, we have Silk. I've not been an over all fan of the influx of female Spider-Man related characters; Silk was fine, then we got Spider-Gwen, which – was that really needed? (Wasn't a Gwenpool enough?) Anyway, I've not been picking up this book. I've not even heard if it's good or bad. The creative team is: • Silk #13 by Robbie Thompson & Tana Ford
Up next we have Prowler – and if the cover is any indication, it looks to be a new Prowler. It looks like a much younger version than the original Prowler. I admit I am curious why Marvel would be pushing this character – of all the characters they have. So I may peek at this and see what the story is about. Again, this has to do with learning more about villains. Curious if they're going to make – what I assume is this new Prowler – a hero? The creative team: • Prowler #1 by Sean Ryan & Jamal Campbell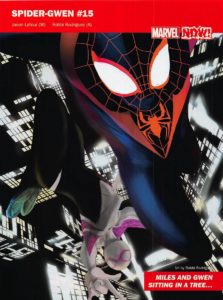 And then there's… this… Spider-Gwen. I know a lot of people love her. I see her cosplayed so much as Conventions. And I am happy that people are able to connect to this character. I've never been able to get into it. Creative team is • Spider-Gwen #15 by Jason Latour & Robbi Rodriguez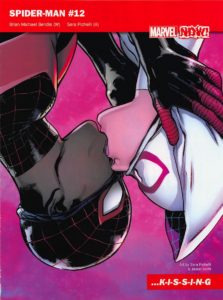 Which flows right into the next book which is Spider-Man (with Miles) who appears to have a relationship with Spider-Gwen. (And here we are with yet another duplicated hero – with Peter calling himself Spider-Man, Miles calling himself Spider-Man, and even Miguel from Spider-Man 2099). I've not picked up this series, mostly because of the writer. The creative team here is: • Spider-Man #12 by Brian Michael Bendis & Sarah Pichelli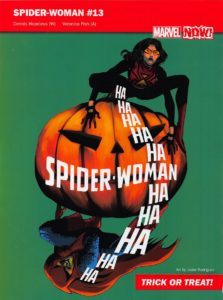 Another Spider related title; though at least, she's not directly connected to Spider-Man (other than the name) is Spider-Woman. I've not collected this series; but if this series brings back Hobgoblin; I might pick up the issues with him in it (as I have always preferred him over Green Goblin… I know, despite how much I complain about duplicates!) I don't care for the art on the cover; but that's a different artist than the interior art. So when Hobgoblin appears I may check out the issue. The creative team is: Dennis Hopeless & Veronica Fish.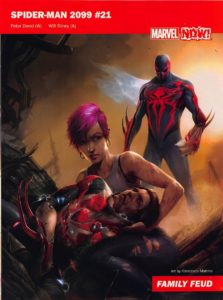 Speaking just a moment about about Spider-Man 2099, that's the next one I want to discuss. I really love this cover; and not just because the classic looking Spider-Man 2099 is standing victoriously overly the new white costumed Spider-Man 2099 (I've been pretty vocal about how much I like Spider-Man 2099, but I hated that costume change – his original costume is so incredible, that it didn't need to change – especially with jets to fly). I have been thoroughly enjoying Spider-Man 2099, despite that costume change! So I am looking forward to see what this cover means – if anything. The creative team here is: • Spider-Man 2099 #21 by Peter David & Will Sliney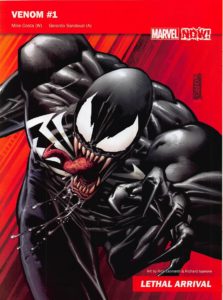 And now Venom is going to be getting his own series – I am guessing Venom: Space Knight didn't work out as well as they had hoped? I never picked it up, and by the looks of this cover, they're going back to the more classic Venom (which I think they should have never ventured from). He had some fun limited series during the 90's that I enjoyed; and if this new book follows along those lines, I will definitely be checking this out. The creative team here is: • Venom #1 by Mike Costa & Gerardo Sandoval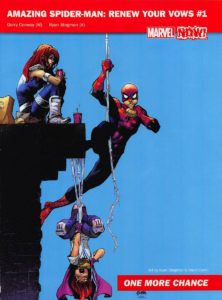 And staying within the Spider-Man realm, we have Amazing Spider-Man: Renew Your Vows. Gerry Conway did some good writing; so I may pick up where this title is headed. Some have speculated that Peter Parker and Mary Jane will be getting married again; or that the whole "One More Day" event is getting reversed. Curious if that's where this is headed. The creative team is: • Amazing Spider-Man: Renew Your Vows #1 by Gerry Conway & Ryan Stegman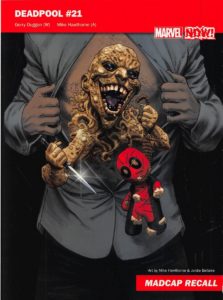 Gerry Duggan is writing Deadpool now – and I've never been a big fan of the character. I enjoyed his original appearances as a mercenary with swords and guns; but he's been everywhere now (and essentially become the new "Wolverine" – who, ironically I enjoyed back in the day, before I became over saturated with him!) Now I admit, Madcap has become a part of the Deadpool titles; and I am a huge fan of Madcap from his appearances in Captain America (and even in – I believe it was Ghost Rider). But I am not sure if it's enough to make me want to pick up the book and see what they're doing with him – even though the title of this one appears to be Madcap Recall. The creative team is: • Deadpool #21 by Gerry Duggan & Mike Hawthorne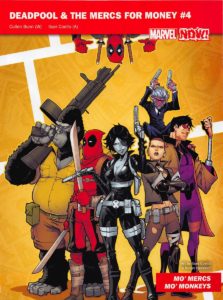 Another Deadpool book is Deadpool & the Mercs for Money which I thought Madcap, Slapstick and few others were slated for; but apparently that entire cast has been changed by two monkeys, Domino, Teenage Megasonic, Machine Man, and a guy in what appears to be a Deadpool costume. The creative team here is: • Deadpool & The Mercs For Money #4 by Cullen Bunn & Iban Coello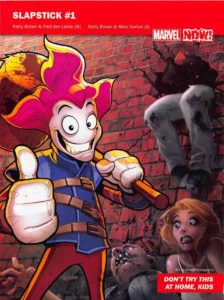 Speaking of Slapstick it looks like he's getting his own title now. It will probably do very well, because it will probably echo the same type of writing found in Deadpool. Despite apparently having joined the New Warriors off panel, and my interest and love of the New Warriors, I can't see buying this book for myself. The creative team behind this insanity is: • Slapstick #1 by Reilly Brown, Fred Van Lente & Mike Norton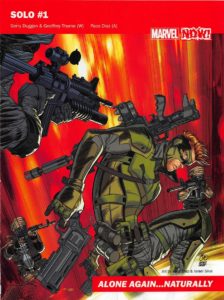 Up next is Solo – which I mainly remember from Spider-Man, and don't remember much more about him. However, if the interior is as good as the cover art; I'd probably give this book a swing and see what they're trying to do with it. The creative team behind that is: • Solo #1 by Gerry Duggan, Geoffrey Thorne & Paco Diaz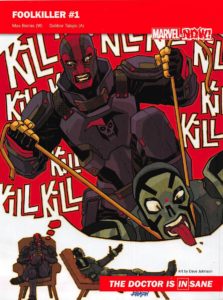 Another obscure villain getting his own book, Foolkiller gets a new look. Initially, it reminded me of Night Thrasher because of the red and black theme. Doesn't look like a book I'd pick up. Creative team is: • Foolkiller #1 by Max Bemis & Dalibor Talajic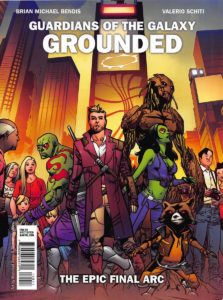 And there's a Guardians of the Galaxy (I should have fit that with the other Guardians books I was mentioning previously)… This appears to be the final arc of the story – and, from what I have heard, (I've made it clear I am not a Bendis fan), but many people seem to be disappointed what Bendis has done with Guardians of the Galaxy… But then, it's difficult to follow up what Abnett & Lanning did with the book… and what the movie did. Creative team is • Guardians of the Galaxy #15 by Brian Michael Bendis & Valerio Schiti
And finally – been saving this one for last…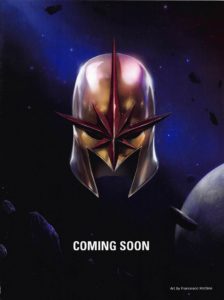 I won't believe it's true, until I see it… but it looks like they're going to finally be bringing back Rich Rider as Nova. Again – I am waiting. I am going to control myself and not allow myself to be excited about this. Because there is no creative team announced yet…
Cynical Tawmis.