So I just got back this weekend (Sunday) from Stan Lee's Comikaze Comic Book Convention. First, I have to say, despite a few bumps, I had a very good time, as I typically do hanging out with my life long friend, and brother in all but blood, Charles Stevens, and his son Matt.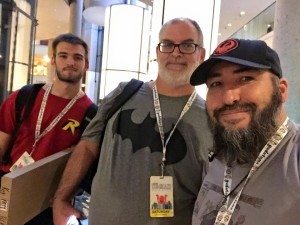 When we first got there, we immediately noticed a higher population of people from just two years ago when we went. (Maico, Amiee and I went last year, and also noticed a higher density of people). This year, they opened it up to three different halls, which was nice, considering I think there was an estimated 75,000 to 80,000 people expected (and it certainly felt like they were all there!)
After a quick view of the area, the first thing I did was stand in line for Rob Liefeld's autograph on the first appearance of Cable and also for Deadpool. It cost me a pretty penny to acquire such autographs, but I am alright with that.
It was a shame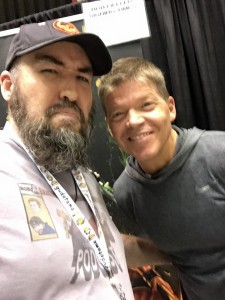 on how they handled the lines for autographs. They had Todd McFarlane (probably most known for Spawn), Rob Liefeld (most known for creating Cable and Deadpool), Jim Lee (well known for his work in Uncanny X-Men, X-Men, and creating WildCATS) all signing at the same time; all right next to each other. Ideally, you'd think they'd make one line, and they'd line them up on the same table, so you could get several books signed at once. But that's not what they did. They were all right next to each other, but at three different tables, staggered out – so they had not three – but six – individual lines, because they had VIP lines, as well as lines for people who stood in line early for a bracelet; and anyone who didn't get a bracelet was out of luck. So all the lines were shoved in the same general area, and caused complete chaos. The Comikaze Security were trying to keep things orderly, and for the most part, considering the amount of people there, they did a pretty solid job. But this could have definitely been handled much better. I would have suggested, either making it two lines (the VIP line) and another line behind them, for one single long table. Or, better yet, stagger the times they would be signing – why have all three big artists/writers signing at the same exact time, in the same exact area? There was virtually no way of getting all three signatures, even if you came back later, because they were handing out those bracelets to whomever you stood in line for in the beginning and that was it. So folks had to chose whose autograph they wanted.
I had also brought books in hopes of having Len Wein (creator of Wolverine, Colossus, Nightcrawler, Storm, Thunderbird, and the rest of the initial new X-Men) – but I could never find any information where he was signing or what time – not even on the website (which, otherwise did a good job listing where to find everyone. I also brought some stuff in hopes of getting Arthur Adams to sign it; but could never find where he was signing. (I also think after waiting 3 hours in line for Rob's signature because I was trying to get there early, I admit my patience for waiting and finding something was cut extremely short).
I admit, had it not been for Nicholas (Infinity8Loafers on InstaGram), I would have probably been a lot more frustrated. Nicholas and I at least got to sort of know each other in those three hou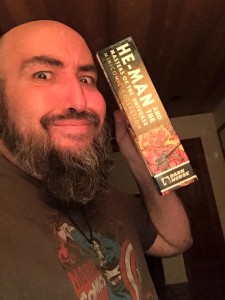 rs waiting. The irony being, that neither one of us recognized the other; that we were actually already following one another on InstaGram. He had spotted one of my post Con photos at the bar, and commented how he was the guy behind me in line – and I checked his photos and realized – it had been the very guy I had spent three hours talking to. (Talk about a small world – even in the land of the Internets!)
My one big disappointment lies with the situation with Melendy Britt (she voiced She-Ra) and Alan Oppenheimer (who voiced Skeletor). I lugged this massive book with me (which I had just gotten!) I was hoping to have them each sign in; I went by the booth that they were supposed to be at, right after getting Rob's signature; and two other people were at the booth (also voice actors, but not who I was looking for). Made my way back there a few times, and they were not there. So Charles finally asked for me, and the guy running the booth said that they both packed up 20 minutes after the Con started on Saturday and left – and then never came back. Never provided the guy who was hosting their booth any explanation or reason for their sudden departure and never communicated with them after the fact either. I was disappointed, because I am a He-Man junkie; I admit it. And I had just got the book and thought, "Wow! This is perfect timing that the guy who voiced Skeletor and the woman who voiced She-Ra are going to be at this event!" In the end, I hope their reason for their departure was not because of some family emergency or something like that (so I hope everyone is doing all right) – but it was a bit heart breaking not to get this book signed! (Mostly because the difference of hauling that massive book all day in my backpack made a night and day difference in terms of weight!)
I did manage to run into Chad Cavanaugh (good friend who does The Map Comic Book) who was doing some work with Dreams in the Witch House. I also managed to find Joie Brown (follow her Facebook Page!), as well as Twitter, and check out her website here and especially her website over here. She has a new web comic called Clucked! coming out soon.
There was a lot of amazing Cosplay to be found at ComiKaze this year:
These are just some of the photos. You can check out the Photo Album on our Comic Relief Podcast Facebook page (you don't need to be a member of Facebook to see the photos). If you happen to know who some of these cosplayers are or if they're actually you and you stumbled across our little corner – (either on InstaGram, Twitter, Facebook, etc), please comment on the photos on Facebook, so we can properly credit them for their amazing outfits!
After Comikaze, we went to our Hotel (The Westin Bonaventure Hotel & Suite), which was very nice, and very beautiful – but it was also like a maze (or as I said, "It's like Hogwartz – the stairs keep moving! And some don't even have a way to access them!")



We finally found our way to the bar (a drink to numb the ol' bones!)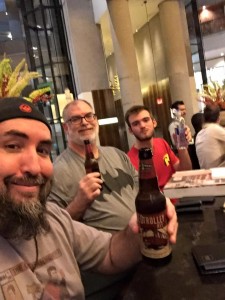 We got up, sore and aching (the old men, that we are, except Matt) and headed back home!